Moto Z Camera Mod will be made by Hasselblad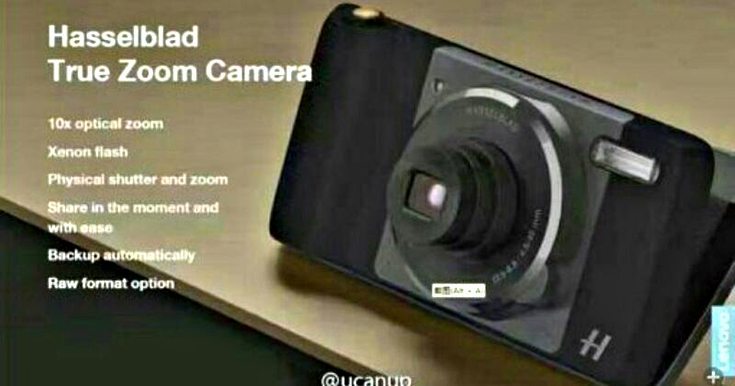 LG G5 made headlines for being one of the first modular phones in the market. The phone had a number of attachments that could be added on to the phone for enhanced capabilities. Shortly after that, Motorola announced that their latest flagship, Moto Z, would come with Moto Mods, which is basically the same thing that LG did. The Moto Mods include Soundboost from JBL, a Power Pack from Incipio OffGRID and an Insta-Share projector. Today we have a leaked picture of the Moto Z Camera Mod which is allegedly made by Hasselblad.
This move by Motorola is definitely drawn from Huawei after their association with Leica. Huawei's flagships, the P9 and P9 Plus, have dual-camera modules which have been engineered along with the German optics enterprise. They are one of the best smartphone cameras in the market and has received universal acclaim.
Moto Mods latch onto the phone with the help of strong magnetic connectors. The picture of the Moto Z Camera Mod has also some features listed beside it. The most attractive feature is the 10x optical zoom which is rarely found on smartphone cameras.
The other features of the Moto Z Camera Mod include a Xenon flash, physical shutter and zoom buttons and raw format option. Pictures will be backed up automatically and can be shared with ease. The Moto Mod will be called Hasselblad True Zoom Camera.
There is still no official confirmation from Motorola and the release date is still unknown. Recently there was a leak which showed the Moto Mods along with the Moto Z. All this is happening before the commercial release, so it looks like the official date is closing in. Will it be able to repeat the success of the Huawei P9 and P9 Plus? Can Hasselblad take on Leica?
via -Â Gizmochina
Source