Hot Deal Alert: Get an Unlocked Sony Xperia X at $100 Off plus a Free 128 GB microSD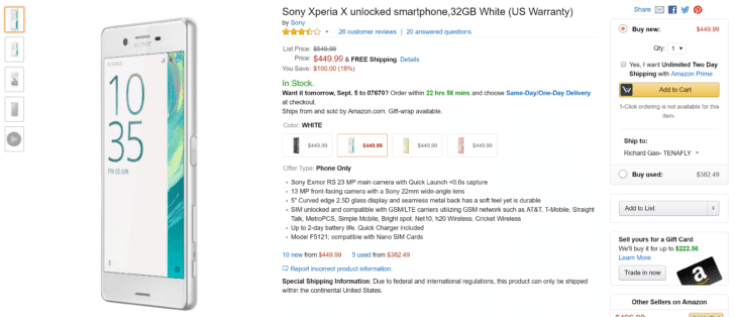 Sony Xperia X is a solid mid-ranger as far as droids go, but truth be told, the price asked initially for this smartphone was pretty much out of line, and I really mean that. When it was first launched as a mid-ranger, remember that, the Sony Xperia X had a more than hefty price tag, i.e. $549,99. That's flagship money after almost any definition, at least in my neck of the woods.
Realizing that sales figures were (and are) pretty pathetic, Sony cut the price off by $50, but that did not changed things radically if at all. Currently, various retailers started to drop the Xperia X prices and today's hot deal comes from BuyDig. For just $449, you'll get a factory unlocked Sony Xperia X, the 32 GB variant plus an extra-free of charge Lexar Class 10 micro SD card.
The next question is what do you get for that kind of money? Well, the Xperia X has a 5 inches wide display of full HD/1080p resolution and under the hood you'll find a Qualcomm Snapdragon 650 system on chip, 3 gigabytes of RAM and 32 GB of native storage capacity. As far as mid-ranged droids go, the Xperia X plays with the best, though it still can't really compete with its Chinese rivals price wise.
In terms of multimedia, the Sony Xperia X has a 23 megapixels main snapper and a secondary 13 MP unit for video calling and selfies, however, unlike its bigger sibling (the X Performance), don't expect water proofing, because you'll not get it, and that's pretty sad. Regarding our hot-deal thingy, be advised that multiple retailers are selling the Xperia X at $449, but if you're looking after something extra, the 128 GB micro-SD card offered by BuyDig sounds pretty interesting, especially if you're into taking loads of pics and videos. You'll also have 4 colors to choose from: White, Graphite Black, Lime Gold and Pink (Rose Gold supposedly).