Lumsing Power Bank Review: 16,000mAh Edition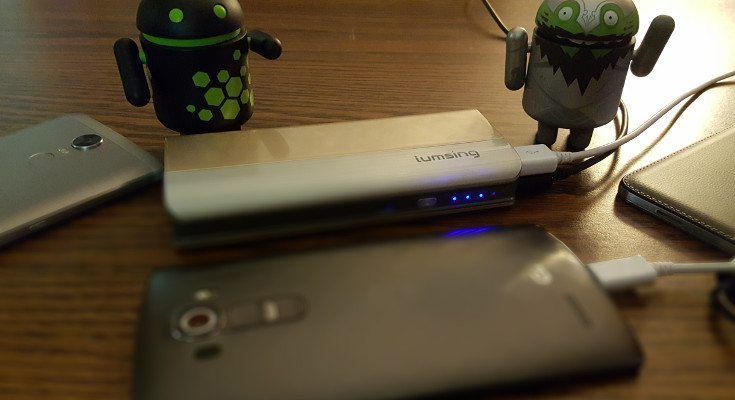 As our smartphone and slate batteries have grown larger, they have required more power which leaves some of us running for a charger. The folks at Lumsing were kind enough to send us over a 16,000mAh Power Bank to test out, and after spending a week with the juice box, we're back with our Lumsing Power Bank review.
We've spend quite a bit of time talking about batteries over the past week with the Galaxy Note 7 recall. Now it's time to talk about something a little more pleasant with our Lumsing Power Bank review as it's a mobile accessory that won't set your vehicle or hotel room ablaze. The big 16,000mAh Power Bank has enough juice to keep you in the loop when your battery goes dark, and it looks pretty darned slick to boot.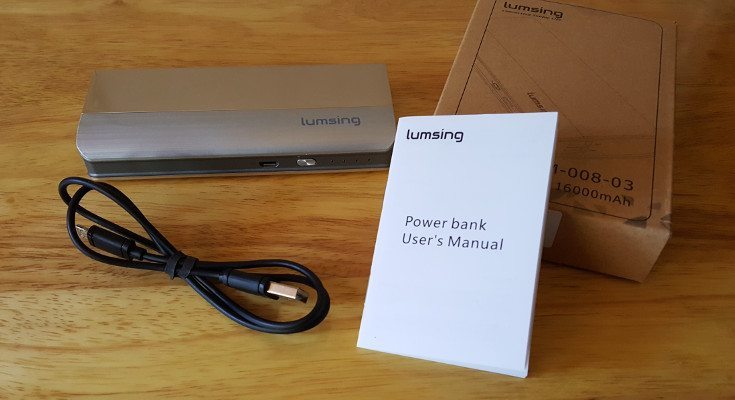 There are no surprises to be found when you open up the Lumsing Harmonica Power Bank, as the box contains the bank, a USB to microUSB cable, the manual, and a Power User brochure. Design-wise, it's a nice looking piece of tech with a metal shell and clean look. Overall, the Power Bank measures 5.4" x 2.3" x 0.8-inches and has a weight of 10.86oz. It's a bit heavier than most folks would want to have in a pocket, but a nice size to hold in the hand or pop into a purse or bag while you're on the go.
The Lumsing 16,000mAh Power Bank has four LED lights on the front that give you the lowdown on your charging times. One light "blinking" is 25%, a solid light with the 2nd blinking is over 25%, etc… The same goes for when it's discharging, so you'll always have a rough idea of how much juice you have on hand. There's only one button on the device for power, and three ports with two USB output ports on one end and the microUSB input for charging up front and center.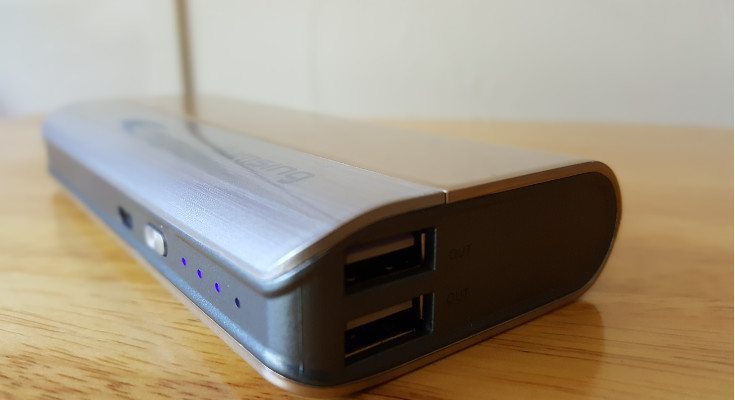 Once we unboxed the Lumsing Harmonica Power Bank, getting started is as simple as plugging it into a power source, which can be a spare port on your PC or your regular old smartphone wall charger. We went with the latter and simply plugged the end of a microUSB into the front of the power bank to juice it up. Charging times will vary to a degree, but we got it up to 100% in around 6-7 hours. That wasn't the recommended "top off" time, but just enough to ensure we had close to a full charge. The company recommends you go a half more or overnight if you want to be fully charged.
The first device we charged up was the Galaxy S6 Edge Plus, which sports a 3,000mAh battery. We were able to get three charges out of the box our first attempt, which may not sound great until you consider one important detail. I was using the smartphone the entire time of the last charge… heavily. The box never got hot, and steadily charged my phone while I laid around playing Clash Royale and checking sports scores.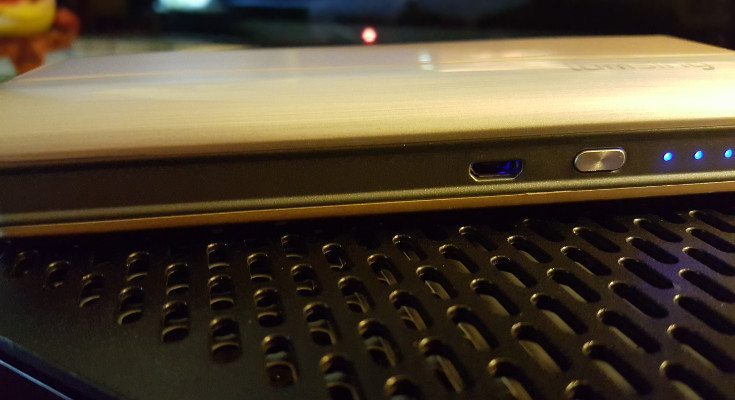 We also charged an aging Samsung Galaxy Tab PRO 8.4 with larger 4,800mAh battery, the LG G4, and an old Galaxy Nexus with juice left to spare. The company's literature claims it can do around 5 charges on a device like the S6 Edge Plus, and while we didn't get that in our tests, we did squeak out four when the box was topped off overnight with a bit left to spare. On average, the power bank took anywhere between 1.5-2 hours to fully charge most smartphones we tested. Now for the tech specs…
16,000mAh
51 x 2.36 x 0.79-inches
86 ounces
Input — Micro USB 5V/1.8A
Output — USB 5V/3A (max)
500 charge life cycle
Some Power Banks are pretty basic and don't offer up much in the way of extras. That won't be the case with the Lumsing 16,000mAh power bank, as it has several built-in features folks should appreciate. It can charge two devices at once and is said to use high-quality power cells with overcharge protection. Again, it never got hot in our tests, always cool to the touch. It also features overcharge and short-circuit protection so it won't fry any of your gadgets and vice-versa.
If you are a heavy smartphone user, a Power Bank is one accessory you need to have on hand. While I had dabbled with a few mobile power sources in the past, the big Lumsing Harmonica was my first real go around with a power bank of this size. I was impressed enough to give it a "buy" recommendation as it's a good looking gadget that works as advertised without breaking the bank.
The Lumsing Harmonica 16,000mAh Power bank is currently priced at $23.99 in the U.S. or £19.99 in the UK. If you're looking to scoop one up, you can shave an additional 20% off until 11:59PM PDT/23:59PM BST on September 30th by using the codes below.
Amazon US Â Code:Â DEGMTHAC
Amazon UK Code:Â CTL8QMGH