What's the Best Car Phone Holder Out There?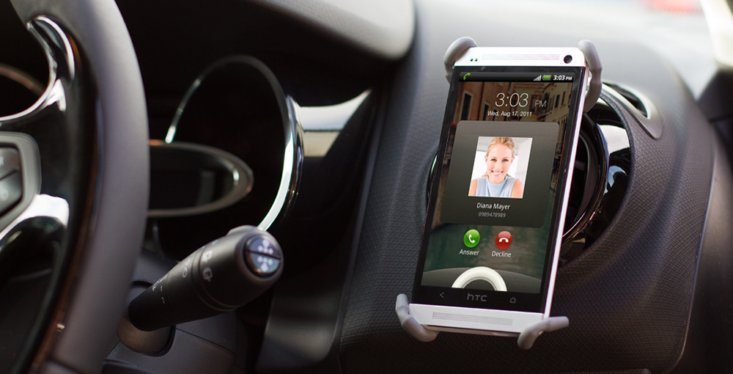 Have you ever had to take your eyes from the road while driving to look for your iPhone? If yes, well, you've landed in the right place, because today's article is about choosing the best car phone holder.
I was in the same situation once (without a car phone holder that is) but after reading some gruesome statistics about how and why traffic accidents (as in car crashes) happen, I've decided to get myself one. With a car phone holder, you can focus your attention on the road while driving and talking, also when using your iPhone as a car-navigation or an mp3 player or whatever. If you want to benefit the most from your iPhone during your trips, a car phone holder is a must have item, believe me folks.
And staying connected while on the road has become increasingly important with the huge advancements in mobile internet technology, hence today's article is about the top three iPhone car holders for keeping your smartphone secured while travelling in your automobile. When choosing a car phone holder, you must consider a few facts, i.e. what type of iPhone you have (screen size) and how much money are you willing to spend, like the budget. Also, given the myriad of options out there, finding the perfect car phone holder may seem like mission impossible, but don't worry, I did the research for you and here's my top 3:
My number one recommendation is the Kenu Airframe, which is one of the best out there in my opinion. Why, you may ask? Well, it will not cost you an arm and a leg for starters, it comes in a cool black color and, very important in my view, it's very compact and feather-light, being incredibly easy to carry and mount when required. The Kenu Airframe attaches easily and intuitively to any air vent inside your car and it can hold any iPhone except for the 6s Plus, i.e. it accommodates smartphones with up to 5'' displays. This is the ideal companion for day to day use, especially during your business trips or vacations as it measures 2.5''x1''x1.9'' and weighs a mere 0.8 ounces. The Airframe is the definition of an improved driving experience and if you have a bigger-screen iPhone just look after the Airframe+. Featuring an expandable jaw which holds your iPhone securely in place and a rotating clip for easy attachment on any kind of air vent, the Airframe keeps the phone at eye level, in sight and ready for hands free calls, GPS navigation or streaming music, thus eliminating any type of unsafe behavior while driving. To prevent scratching your car dashboard, the Airframe comes with soft molded grips, so you don't have to worry about the resale value of your vehicle (just kidding).
My number two choice is the Aikema PH05 Air Vent Car Mount Holder which is also very light and relatively compact, though it's bigger than the Airvent thus not so pocketable. The Aikema measures 5''x4''x1.9'' but due to its bigger size, it comes with an extra feature: a 360 degree rotate option for providing you with the perfect viewing angle for your iPhone while driving, a feature which comes very handy if you're using your smartphone as a navigation device. Just like the Airvent, the Aikema attaches itself firmly and securely in place on any air vent inside of your vehicle using soft rubber grips for preventing any type of damage to your dashboard. This car phone holder is very sturdy and reliable and it's compatible with basically any type of iPhone, with displays up to 5.5''wide, thus including the big sized iPhone 6s Plus. The Aikema car holder comes with a rotating clip for easy and secure mounting onto any type of air vent, vertical-horizontal and/or angled. The installation is quick and easy, very intuitive and you can use it with any model of smartphone provided the phone's width doesn't exceed 3.5''. If you want a rock solid car phone holder for your iPhone at a very reasonable price, the Aikema PH06 is an excellent choice. Also, the Aikema costs less than the Airframe, hence if you're on a tight budget you can sacrifice portability for the 360 degree-rotating feature.
Finally, there's the Zilu Elite Universal Air Vent Car Phone Mount, a higher-end car phone holder if there ever was one. Unlike the previous two, the Zilu Elite comes with a heftier price tag and a flashier design, but the rest of the features are relatively comparable. For example, the Zilu Elite can hold basically any type of smartphone, the iPhone 6s Plus included and it provides a steady grip for keeping your device firm into place via a stretchable arm which can accommodate smartphones up to 3.3'' in width. For offering you the ideal viewing angle, the Zilu Elite also features 360 degree rotation just like the Aikema, but the metallic finish and its elegant rounded shape scores extra points in the "looks" department. This car phone holder attaches itself onto any type of air vent easily and securely via a specially designed clip, cushioned with soft rubber padding by pushing it against the air-vent blades. What I like the most about the Zilu Elite is its pebble-like design with a cool metallic finish and the fact that it looks very premium, a feature that will definitely please any iPhone owner. Weighing 3.2 ounces and measuring 3''x2.2''x2'', the Zilu Elite is the perfect companion if you're a fashion conscious iPhone user and it comes highly recommended if you can live with the hefty price tag.
Now let's take a look and see which one of the three will suit you the best.
If you're looking for high end design, cool looks and "fashion compatibility" with your iPhone, the Zilu Elite with its metallic finish and awesome looks would be the perfect choice, money no object. The most versatile car phone holder of the three and also the cheapest is the Aikema, as it offers all the bells and whistles of the Zilu Elite at a more affordable price tag. However, the "wow" factor will be missing, but if you can live with a dull-looking car phone holder, i.e. vanity is not your sin, the Aikema will suit you like a glove. Last but not least, let me tell you about the Kenu Airfame, as it's my personal favorite. Why? Well, it's the most sturdy/robust of the three, it comes at a reasonable price and it's the lightest and most pocketable, which is very important in my book, as I travel a lot and I rent cars during my business trips. Having a small and light car phone holder means a lot to me, hence the Kenu Airframe is my number one choice. Now, depending upon your personal taste and requirements, you can buy any of the three and you'll not be disappointed.