Hot Deal Alert: Buy a Moto Z Droid from Best Buy and Get a $250 Gift Card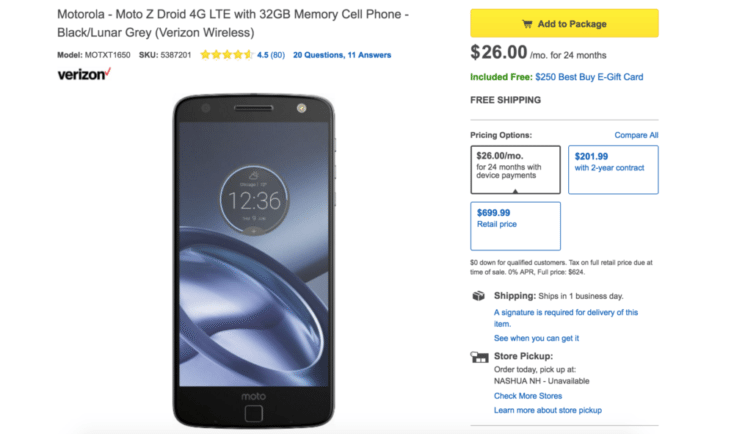 Even if the hero of our times, the Galaxy Note 7, is almost dead and buried, at least officially, that doesn't mean you don't have options, and today's hot deal arrived to us courtesy of Best Buy, which offers a cool $250 gift card with every Moto Z Droid purchased from their online/offline stores. The Z Droid is Lenovo's latest and greatest flagship, making for a beautifully designed piece of  modular Android gear and right now is the perfect time to put your greedy little hands on it.
Whilst the Moto Z Droid is a Verizon exclusive in the United States, if you choose to buy one of these babies from Best Buy, you'll receive a $250 gift card. Obviously, you'll be able to use the gift card for any other purchase you make in the store. As I already told you, the Moto Z Droid is the modular-transformer-droid by excellence, and boy, these modules are pretty expensive. Enter the gift card, i.e. you can use it to buy mods for your Moto Z Droid, making for the perfect opportunity to enrich your overall droid-experience, right? It doesn't get any better than that folks, believe me!
The Moto Z Droid itself will cost you almost seven hundred bucks off-contract or a couple hundred on a 2 year deal. If you go for a monthly payment plan, you'll get the Moto Z Droid whilst paying $26/month for 24 months. The Moto Z Droid is a very slim/modular droid featuring a 5.5" QHD screen, which is protected by Gorilla Glass 4. The main camera is a 13 MP low-light variety whilst the secondary is a 5 MP snapper, front-facing obviously, for selfies and video chats. If you're into selfies, the secondary  camera comes with its own LED flash! The droid runs on a QSD 820 system on chip and has 4 GB of RAM on-board. The battery though is relatively tiny, standing at  just 2600 mAh, but it will get you through the day.