Get a Free Tablet With an LG V20 Bought From B&H or Newegg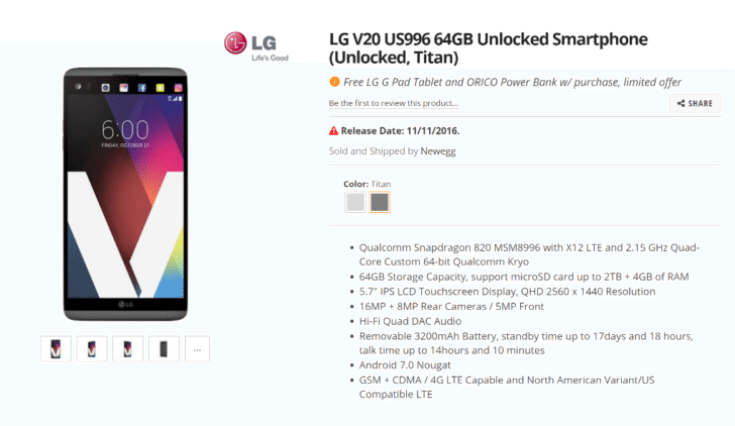 Today's hot deal alert sounds very interesting folks, as we've just got word that Newegg and B&H are giving away freebies like there's caturday or something, i.e. if you're going to buy an LG V20 (unlocked, contract free, SIM free) from these folks, they'll reward you with an absolutely free of charge tablet. The tablet is worth almost $150 and it's not a cheap Chinese knockoff, but an LG Pad.
Basically, today's deal is about 2 for the price of one. As the LG V20 is ready to roll in the US, marking its official debut in the world's most tech-addicted market, the Koreans seem to have thought about throwing away freebies to sweeten the pill deal. I'm saying that because the LG V20 comes with a hefty price tag. Both B&H Photo and Newegg are selling the droid for almost eight hundred bucks ($799), unlocked and loaded; however, that's a lot of money in my neck of the woods.
The free of charge LG Pad tablet is nothing to write home about really, having just one GB of RAM and 8 GB of native storage capacity, together with a 7 inches wide display,  Wi-FI and not much else. But you can always sell it if ever in need for some quick cash or give it to a family member or a friend. While the LG Pad is weak specs wise, the LG V20 runs with the big dogs, being flagship stuff if it ever was one. The smartphone boasts a 5.7 inches wide screen, an 1440p variety and it runs on a Qualcomm Snapdragon 820 system on chip, with 4 GB of RAM and 64 GB of internal storage.
The main camera has a resolution of 16 MP while the secondary is half of that (8 MP if you were raised in public schools). Another interesting detail is the removable 3200 mAh battery, which is kind of rare nowadays and the high quality DAC on-board, which is almost audiophile-grade. Also, the LG V20 may be the first droid to be shipped with Nougat on board by default. Keep in mind that if you pre-order from Newegg, you'll get an additional freebie,  an ORICO power bank. Shipments of the LG V20 will start on November 11th.