Mysterious ZTE BV0800 Device Surfaces on GFXBench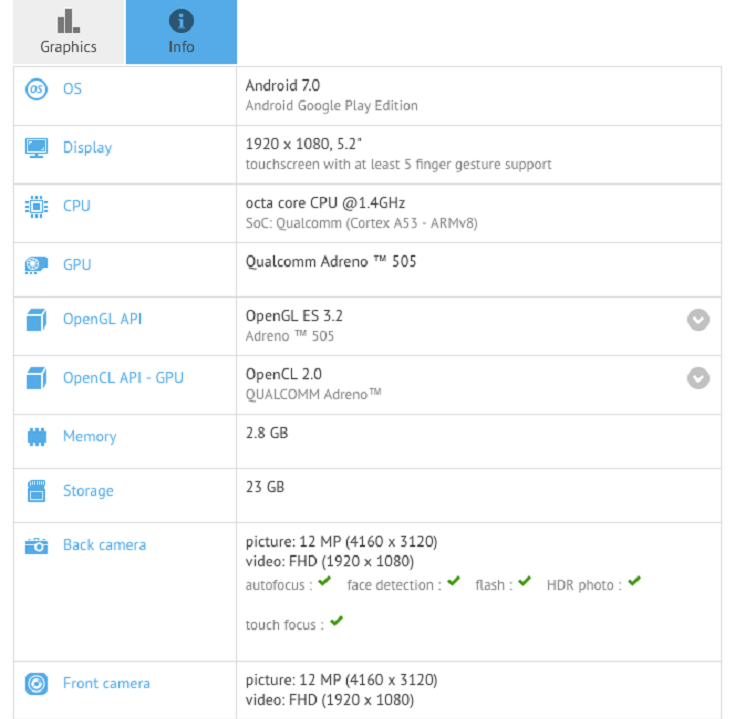 A brand new and totally unannounced ZTE-made smartphone just appeared on GFXBench. The device carries the BV0800 moniker/model number and it has a very peculiar 13 megapixels selfie camera, running on the latest Android version, 7.0 Nougat respectively. As it's always the case with GFXBench, we already know quite a few things about this new ZTE smartphone, so let's take a look at the specs.
The BV0800 has a 5.2 inches wide display of full HD 1080p resolution and it runs on a Qualcomm Snapdragon 430 system on chip. I know what you're thinking, this is not something to write home about. However, for budget conscious droid-users, the quad core architecture with the CPUs clocked at 1.4 GHz and the Adreno 505 graphics processing unit are quite alright for daily tasks, which include surfing the web and using the most popular apps, the likes of Whatsapp, Snapchat or Facebook. For these kinds of tasks, a Snapdragon 430 SoC is more than enough.
Now,  let's see what makes this device different from the plethora of cheap droids which are already available out there in the wild. You've already guessed, it's about the 13 megapixels secondary camera for selfies and video-calling, which is rather unusual. It's also worth noticing that both the main and the secondary snappers have the same 13 MP sensor. As per the rest of the specs, the BV0800 comes with 3 GB of RAM on board and 32 GB of native storage capacity, which is very decent in the low-mid range bracket.
According to the GFXBench manifesto, there's no NFC support available in this little droid, nor do we have intel about a micro SD expansion slot. What's very clear is that the BV0800 is targeted at selfie obsessed youngsters and it will most probably play in the best bang for the buck category, as it's usually the case with ZTE smartphones. Stay tuned for more news.
source: GFXBench via MobileKaPrice