Thuraya XT-PRO DUAL Satellite Phone Launched Officially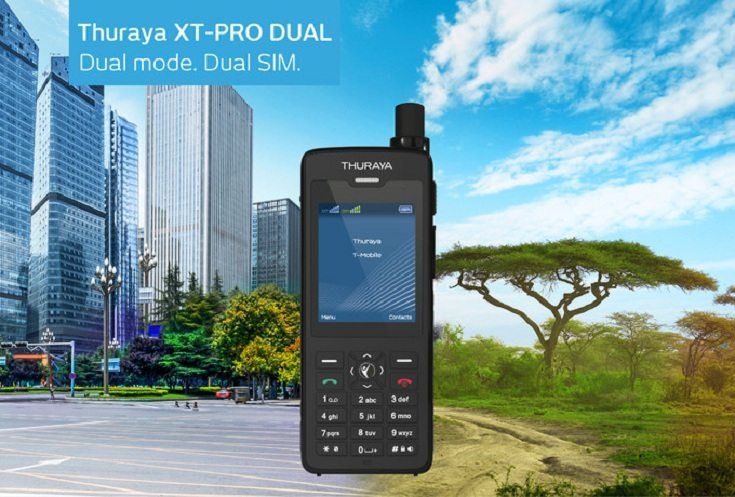 If  you're a satellite phone user, today's news will put big smile on your face, as Thuraya revealed their latest XT-PRO DUAL,marking a world-premiere in this niche. Thuraya is one of the few companies which are specialized in building satellite phones. You know, those phones that work in the rain-forest or on the Everest, as they communicate directly with satellites and they don't require GSM/CDMA network coverage. Basically, satellite phones are the best thing ever invented with regard to telecommunications.
Enter the brand spanking new XT-PRO DUAL, which is the first satellite phone in the world to offer a dual mode, hence its name. Basically, this baby can be used simultaneously as a regular phone on GSM networks and as a satellite phone, as the XT-PRO DUAL is capable of switching seamlessly between the 2 modes. If there's no GSM coverage, the XT-PRO DUAL will contact the nearest satellite, you know the drill.
When talking about satellite phones, these gizmos are built for the sole purpose of communication, hence their customers don't care much about bling, gadgets and fancy features. Thuraya's sat-phone  is aimed at business people and folks who travel a lot, especially in areas where is limited GSM coverage. Thuraya's satellite network covers over 160 countries in the world in Africa, Europe, Australia and Asia. XT-PRO DUAL's GSM mode supports the vast majority of 2G and 3G bands world wide.
Thuraya says that their new satellite phone is the first device in the industry to boast advanced tracking capabilities based on distance traveled, preset time intervals and detection movement. The battery in the XT-PRO DUAL offers almost eleven hours of talk-time (in sat-mode) and up to four days in stand-by mode. There's also an SOS emergency button, while the XT-PRO DUAL is water, shock and dust resistant, with Corning's Gorilla Glass protecting the display.