Humble Mobile Handy Games Bundle lands with 19 Android Games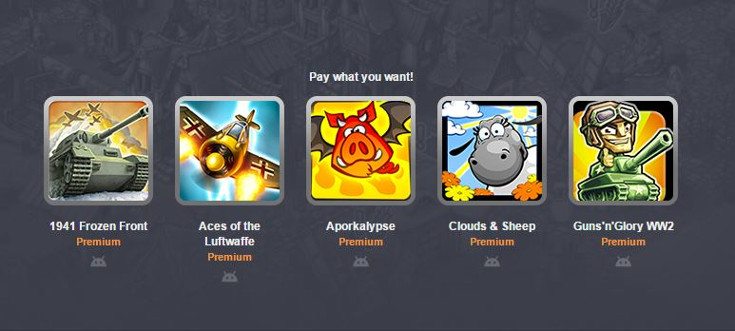 While we were recovering from our Turkey induced state of rest, a new Humble Bundle arrived. This one is the Humble Mobile Handy Games Bundle and it is by far the biggest offering of mobile games we've seen from sale this year.
The Humble Mobile Handy Games Bundle is offering up a whopping 19 games for one low price. That is not a typo… 19 games. There is a bit of a catch though as many of these are actually free titles in the Play Store although you are getting the "Premium" version. What this actually includes varies by titles, but for $5 bucks or more, it is a deal that can't be beat. Especially if you dig Handy Games arsenal.
As always, the first tier in the Humble Mobile Handy Games Bundle is pay what you want. Those games include Guns n Glory WW2, Clouds & Sheep, Aporkalypse, Aces of the Luftwaffe, and 1941 Frozen Front. The next step up is a paltry $3 bucks and includes 9 games. Save the Puppies, 1944 Burning Bridges, Cyberlords, Super Dynamite Fishing, Devils & Demons, Stage Dive Legends, Guns n Glory Zombies, Ninja Hero Cats and Rocket Island. Again… all these are Premium versions.
Bringing up the rear are the last five games in the Humble Mobile Handy Games Bundle. These include Dynamite Fishing World Games, Townsmen, Guns n Glory Heroes, Clouds & Sheep 2, and 1942 Pacific Front. Those are in the $5 tier which also includes all the games we've mentioned already. That's 19 games of goodness, and the mix is varied enough that kids, grandmas and gamers alike should find something to enjoy.
When I first started out in this biz many moons ago, Handy Games was one of the top developers around. It's great to see they are still cranking out titles, and while they are certainly no stranger to the bundle, this one is too sweet to pass up if you enjoy casual gaming. You'll also be helping charity to boot. The Humble Mobile Handy Games Bundle comes to a close in 6 days if you are looking to get your game on.