Tablets for Kids 2016 Holiday Edition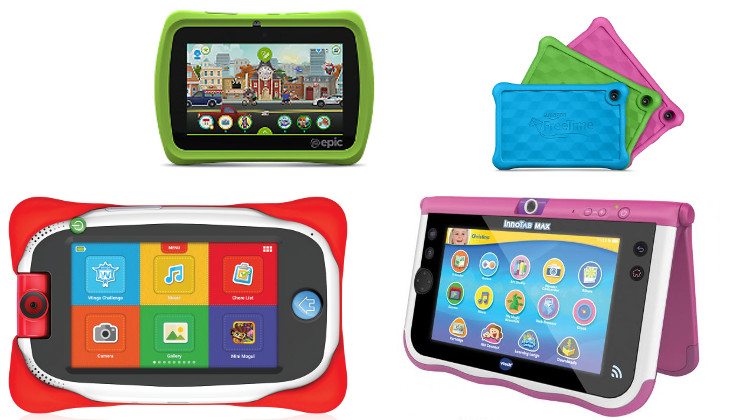 If you follow our site, you have come across an article or two involving Tablets for Kids. Toddler Tablets are always a popular choice come holiday time, and we're here to recommend a few in case Santa needs a bit of help this year.
While the Peek A Boo Tablet Holder is quite popular this year, you need a tablet to put in it. There aren't too many solid choices either if you need a Tablet for Kids this year. By that, we mean one that is locked down to a degree and not just rugged and colorful. Nabi, LeapFrog, and Sprout are a few names parents will know, but Amazon and Sammy have tablets for kids as well. While we may refer to some of these as toddler tablets, keep in mind the age range is meaningless as it comes down to your child's skill level.
Samsung Kids Tab E Lite 7.0
First up in our Tablets for Kids 2016 list is the good old Samsung Kids Tab E Lite 7.0. This little slate is one we've touched on in the past and is "locked down" so you won't have to worry about IAPs. You can monitor their activity and set limits as well. The specs won't blow you away, but will definitely get the job done with a 1.3GHz Quad-Core processor, 1GB of RAM, 8GB of expandable storage and a 7-inch 1,024 x 600 display.
As you would expect, this toddlers tablet also comes with plenty of Samsung software including the paid Samsung Kids Service. That said, you will get a three-month trial with purchase but there's plenty of content sans the service. The price is also very nice as well at only $69.99 making it an option if you are on a budget. If you can spend a bit more, you will want to keep reading however…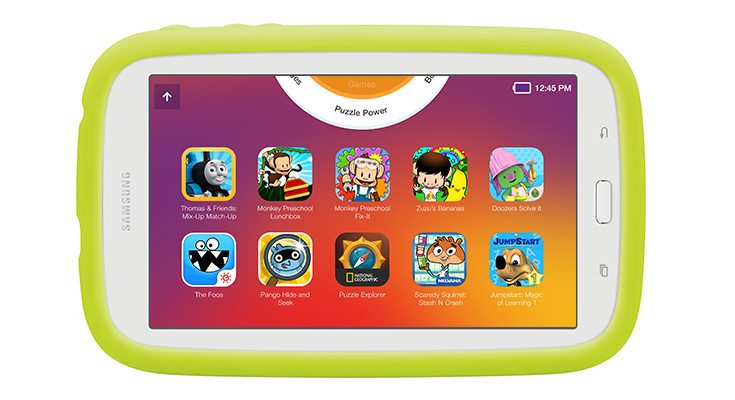 LeapFrog Epic 7
Another find choice for a Kids Tablet would be the LeapFrog Epic 7. It's a little more expensive than some of the other Tablets for Kids on our list, but a great option with more horsepower. The Epic comes pre-loaded with all sorts of goodies from LeapFrog and is built to be a safe place for kids on the net. There is a massive learning library to peruse as well and more storage with 16GB and a microSD card slot.
Many of the other parental features are found on this one as well, just under a different name than on the Kids Tab E. The LeapFrong Epic 7 price is listed at $99 and it can be found through online e-tailers and straight from their official shop. You should have no trouble finding this one in retail stores either as it's been a very popular Kids tablet since it first debuted.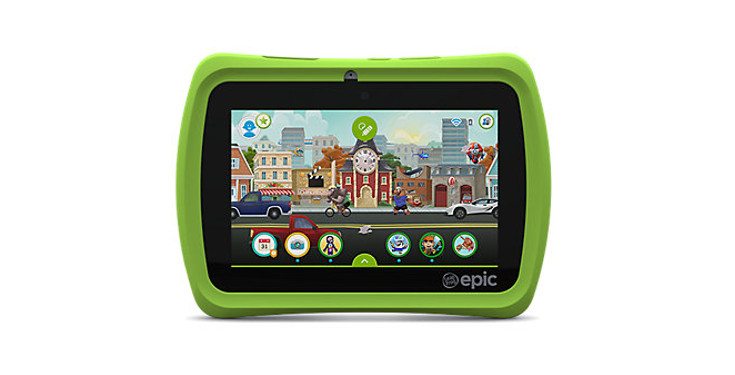 Amazon Fire Kids Edition
No tablet list of any kind is complete without Amazon making an entry. For our Best Tablets for Kids 2016 list, we're going for the aptly named Fire Kids Edition. Billed to come with a "Kid Proof Case" it's basically a Fire tablet in disguise with an IPS panel and your choice of 8GB or 16GB of storage. As it's Amazon, you will be locked inside their walled garden for the most part but with plenty of kid-friendly apps to choose from.
You also get 2 years of a "worry free" guarantee, which means they will give you a replacement if your child decides to toss it out a window… or under a car tire. The Amazon Fire Kids Edition price is listed at $99 for 16GB of storage and is available in three colors with Blue, Green, and Pink. The 8GB edition seems to have been phased out, but can still be found for around $79. That said, save yourself a headache and get more storage.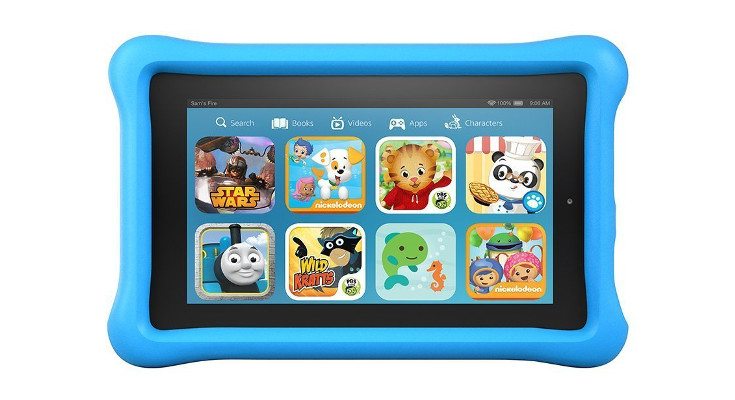 While only three tablets made the cut on our Tablets for Kids 2016 list, there are certainly other options to consider. The Nabi DreamTab has gotten decent reviews as has the Kurio line and Sprout's slates. As for Kids Tablet accessories, there are far too many to mention but the Peek A Book Tablet Holder looks to be a hot seller and can be had for as little as $6 online from various retailers.