LeEco LEX622 gets benchmarked with Deca-Core processor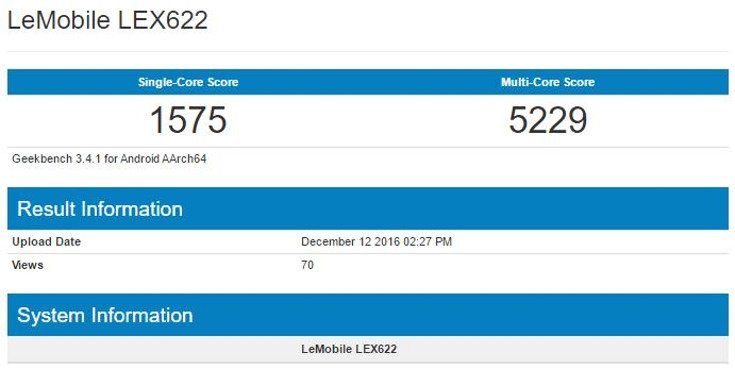 LeEco has been in the news for several different reasons lately, not all of them good. The LeEco LEX622 could be a bright spot for the company in the near future as it's just rolled through Geekbench on its way to an eventual release.
If you follow the news, you have probably heard that LeEco has seen better times financially. That may come as a surprise given how popular their handsets have been, but the company is looking to gain some capital through expansion. We aren't sure where the new LeEco LEX622 smartphone will fit into the plans, but it could be one of their first handsets of 2017 as it just rolled through the benchmark listings.
The LeEco LEX622 was benchmarked on Geekbench a few days ago on December 12th. It was listed as running Android 6.0 and will draw its power from the deca-core processor known as the Helio X20. The chip will get a boost from 3GB of RAM, but as is usually the case, there is no word on the rest of the innards. One would assume it will have solid cameras and 32GB of storage although 16GB with expansion could be in the cards as well. Just an educated guess, but the LeEco LEX622 is more or less a mystery at the moment.
LeEco may have come a long way in a short time, but it appears to have come at a cost… literally. It remains to be seen how their expansion into the U.S. market will pan out, but techies in the region could help fatten the pockets of the company if the prices remain affordable in 2017. Needless to say, we'll keep you informed as more details surface on the LeEco LEX622 smartphone.
What would it take from LeEco to pull you in as a new customer in 2017?
via – GSMarena        source: Geekbench