Gionee M2017 specifications are official with $1000 price tag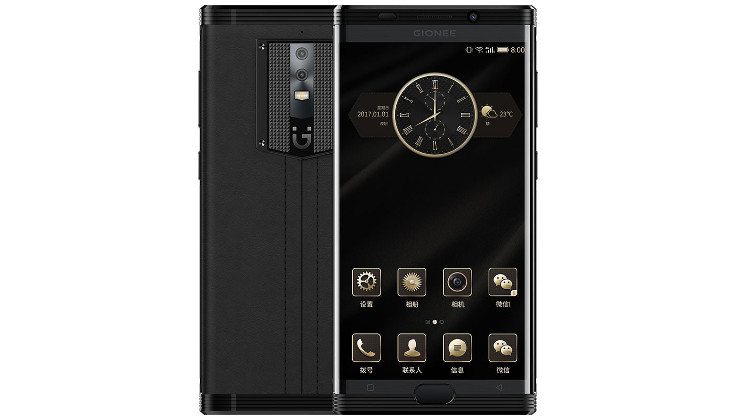 Last month, an interesting handset from Gionee caught our eye in the Gionee M2017. Today the cat came out of its bag, which means we have the Gionee M2017 price and specifications to peruse to see if this one lives up to the hype.
The Gionee M2017 has been a bit of a mystery. Initially, it was rumored to come with some wild features including a massive 7,000mAh battery and a 2K display. It appeared to be an unannounced flagship in every sense of the word, and it looks like those leaks are true. The Gionee M2017 specifications put it in the upper echelon of the smartphone world aside from on component which is a bit of a surprise.
The Gionee M2017 specifications include a large AMOLED panel measuring 5.7-inches. It has a resolution of 2,560 x 1,440 and does indeed have a bit of a curve on each side. It certainly doesn't look like your typical Android handset either. It has an Alligator leather back on the "luxury" model to go along with metal accents and a Dual Camera setup. We're not going to necessarily call it sexy but will say it's unique.
As for the innards, the Gionee M2017 specifications show a whopping 6GB of RAM and 128GB of built-in storage. That's flagship material which makes the chip of choice all the more puzzling. The horsepower comes from a Snapdragon 653…not the 800 series. The rest of the specs are quite solid however with a Dual 12MP sensor setup on the back, 8MP front-facing camera, fingerprint scanner, Dual SIM slots, and 4G LTE. There is no 3.5mm headphone jack but you do get Type-C USB charging and two 3,500mAh batteries.
As you'd expect, the Gionee M2017 won't make its debut in the U.S. or Europe as this baby will land in China. The Gionee M2017 price is listed at CNY 6,999 which shakes out to around $1000 bucks in the states. That's expensive, which means it could remain overseas as we can't imagine too many folks shelling out that kind of dough for this particular handset… big battery or not. The premium version with the Alligator hide is in the luxury realm as well with a price tag of around $2,500.