Samsung Galaxy S8 sales set high for April release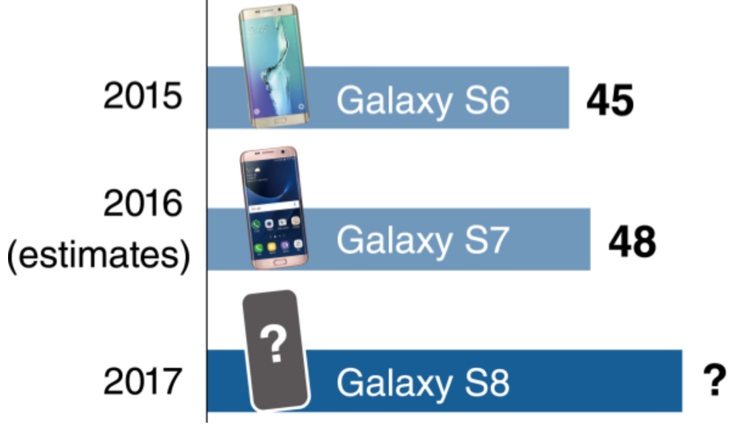 Interesting news today comes from a Korean report citing industry insiders about the new flagship Samsung smartphone 2017. Despite the Galaxy Note 7 fiasco last year Samsung is still forecasting big things for the next in the Galaxy S series, and Samsung Galaxy S8 sales have been set high for its April release.
The Korean smartphone giant has an ambitious target, as industry sources report shipments of 60 million units have been estimated. That's a massive goal considering that it outstrips the last few iterations of the phone by some margin. The Galaxy S6 for instance has achieved sales of 45 million, with expected sales for the Galaxy S7 set at 48 million. However, it was the 2013 Samsung Galaxy S4 that achieved the highest shipments so far at 70 million units.
An industry source speaking with anonymity said that Samsung has asked suppliers to provide parts based on the 60 million aim. The same insider also says that the Samsung Galaxy S8 release will be in mid-April, and this tallies with earlier rumors. If accurate that would be around a month later than the S7 release. A further insider explained that the high target of Samsung Galaxy S8 sales stems from the company aiming to retrieve its losses from the Note 7.
The report also claims that next month Samsung will be receiving various electrical components from its partners. These include Sekonix who produce camera lenses and Partron who supply camera iris scanner modules. Then in March radio frequency modules are likely to be provided by Samsung Electro-Mechanics and Amotech. Mass Galaxy S8 production will then be ready to begin in earnest in March starting with 5 million units.
Meanwhile Nomura Securities predicts that Apple's iPhone 8 will sell up to 80 million units during the last quarter of this year. Some market analysts are doubtful about Samsung's goal, and it remains to be seen if the targeted Samsung Galaxy S8 sales are achievable. There will no doubt be plenty of market watchers waiting to see if this pans out. Do you think Samsung's goals for sales of the Galaxy S8 are over-ambitious?
Source: The Investor