Yu-Gi-Oh- Duel Links game arrives for Android and iOS
Card-based games have been the way to go for developers looking to dig into mobile gamers pockets. The Yu-Gi-Oh Duel Links game is the latest card battling title to vie for your free time, and it has finally gone global for folks in the West.
Pokémon, Yu-Gi-Oh, and Hearthstone all have several things in common. Popularity would be one of them and the fact that they all rely on cards would be another. They also have massive, rabid fanbases. When it comes to mobile ports, only the latter two titles have made an impact although it remains to be seen how the Yu-Gi-Oh Duel Links game will measure up.
Yu-Gi-Oh Duel Links has been out in Japan for a while now where gamers have been putting together decks and dueling online. Links is a fairly speedy affair and offers up several different modes of play. You can take on legendary characters in Duelists mode or opt to play the campaign. Online PvP is present as well along with leaderboards and the usual perks. Considering how many cards are available normally, we're guessing there will be plenty of content in that department as well.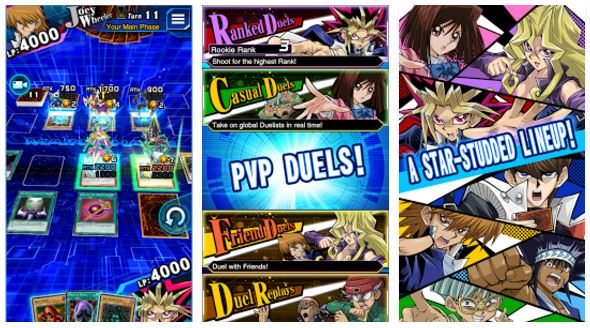 As you might suspect, Yu-Gi-Oh Duel Links is a freemium game. That means you will have to deal with some in-app purchases although it's too early to tell how that will pan out just yet. That said, it is a good looking game that fans of the franchise will surely enjoy and it's totally free to download. If you want to take the Yu-Gi-Oh Duel Links game for a spin, you can pick it up for free on Google Play or the App Store.