Nokia Heart specifications show an unannounced mid-ranger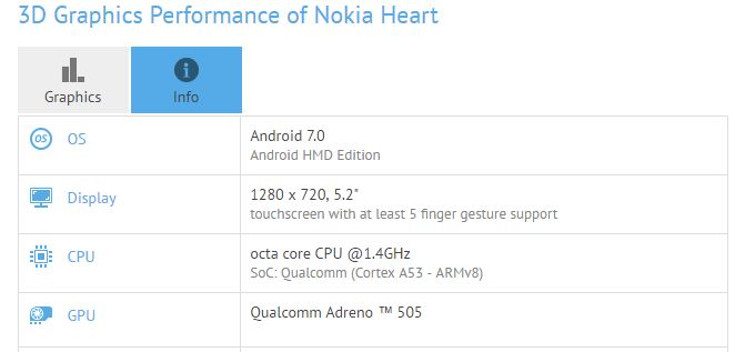 It appears as if Nokia is going to unleash several new devices in the near future. The Nokia Heart smartphone has just gotten listed on GFXBench, and looks to be an affordable option whenever it lands.
Recently, an interesting tablet rolled through the benchmark listings with a ginormous display around 18-inches. While that isn't anything to raise the alarms these days, the specs of the mysterious slate certainly got our attention as it is in the flagship class. Well, the Nokia Heart isn't nearly as capable under the hood but could be the most popular handset in their lineup due to the price.
The device on GFXBench doesn't have a model name but is dubbed the Nokia Heart. It's running Android 7.0 HMD edition and will debut in a smaller form factor than the Nokia 6. The Heart has a 5.2-inch panel with a resolution of 1,280 x 720 and only has 2GB of RAM instead of the 4GB found on the Nokia 6. The storage has been slashed as well down to 16GB with 9GB usable after the OS. As for the processor, it's the Snapdragon 430 while the cameras clock in at 12MP on the back and 8MP on the front.
Nokia Heart Specifications
5.2-inch 720p display
Snapdragon 430 processor
2GB of RAM
16GB of storage (expandable)
12MP rear camera with LED flash
8MP front-facing camera
Bluetooth, Wi-Fi, 4G LTE, NFC, GPS
Android 7.0 HMD Edition
The Nokia Heart may not be as beastly as the Nokia 6 and it can't hold a candle to the massive Nokia tablet. That said, it will be considerably cheaper than the latter and cost less than the 6 as well. The Nokia 6 price will currently set you back the equivalent of $250 which means the Nokia Heart could clock in at between $150-175.
Would you be interested in the Nokia Heart if the price is right?