Xiaomi Mi Mix 2 release officially confirmed through CEO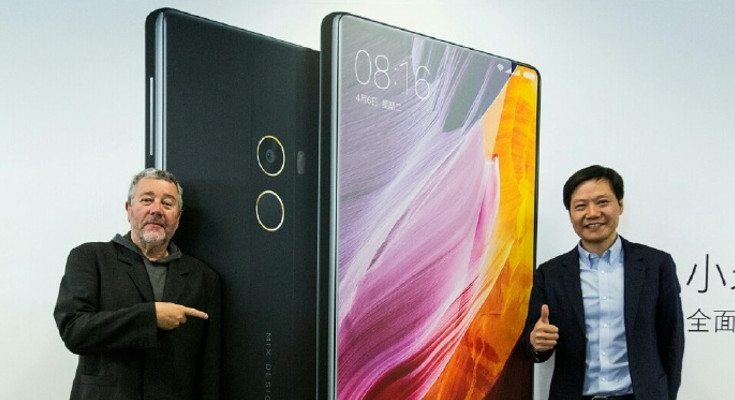 Most of us can't get our hands on it, but the Xiaomi Mi Mix is one of the hottest phones around. While we don't know when the Xiaomi Mi Mix 2 release date will arrive, its existence has been confirmed today from an official source.
We were first introduced to the Xiaomi Mi Mix back in October. Needless to say, it got everyone's attention and it wasn't long before we started hearing rumors of variants. That has not transpired, and the smartphone is certainly no easier to obtain. It could change soon when the LG G6 and Galaxy S8 become available, but what about the Xiaomi Mi Mix 2? Many assumed we would see a sequel eventually and that has been confirmed today through a Weibo post.
Xiaomi's president Lei Jun posted an interesting photo on Weibo today. It shows him with Phillippe Starck, the man responsible for designing the original Mi Mix. Jun says they met and discussed the design of the Xiaomi Mi Mix 2 and that things are already in the works. The wording leads us to believe Starck has already shown his ideas to Jun and that the two are already working on the follow-up. No details were given, but one would expect something just as unique.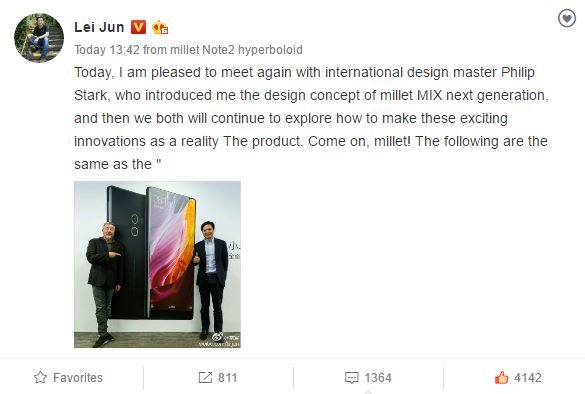 Given the fact the Xiaomi Mi Mix already has an edge-to-edge display, there is only one thing to do if they choose to change the front. Considering the fingerprint scanner is already located on the rear, they could slim down that bottom bezel which would increase the screen-to-body ratio even further. Obviously, new processors and components would come into play as well – we expect the Xiaomi Mi Mix 2 specifications to be top of the line.
We didn't see the original Mi Mix drop until November, so there's a good chance we won't see the Xiaomi Mi Mix 2 until later this year. Things could always be bumped up now that the first model is out of the gate, but dropping it later in the year could be a wise choice. There are only two flagships that we know of expected to launch around that time with the iPhone 8 and Galaxy Note 8. Xiaomi may not have the same name recognition globally but would make an impact nonetheless if the Xiaomi Mi Mix 2 is as slick as its predecessor.
via – Mobiletelefon.ru   source: Weibo