St Patricks Day coloring, live wallpaper via free Android apps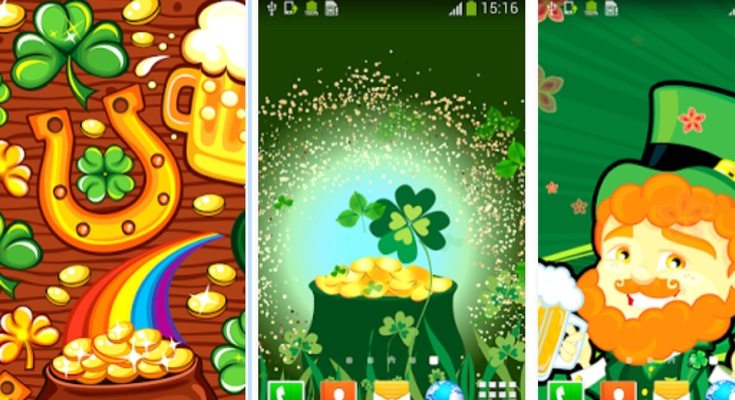 We're fast approaching March 17, which can only mean one thing, St. Patrick's Day! This is a hugely popular celebration, not just in Ireland but in communities all over the world or for anyone who just loves Ireland and the Irish. It's a great family occasion and a time of merriment. With this in mind we've rounded up some of the best free St Patricks Day coloring and live wallpaper Android apps.
In just two more days there will be parades, celebrations, dressing up, feasting, festivities, and a sea of green to honor the patron saint of Ireland. Many kids will enjoy taking part in activities for the big day while adults might enjoy a special wallpaper for their mobile device. That's where these free apps will come in really handy. If you want to check out further information or download any of the following apps, simply hit the title links.
Our first choice is Shamrock Live Wallpaper, a highly rated app on Google Play. You can enjoy a Happy St Patrick's Day with this wallpaper of magic fireflies on a sea of shamrocks. The app has many features to customize the wallpaper exactly how you like it. Dragging a finger will make the fireflies wake or if you tap the screen the fireflies appear closer to your finger. You can also change the type of Shamrocks (Default, Brilliant, 3D, and Glowing), change the number, size, and speed, and also the movement. Further options available include adding a sparkling frame, a choice of backgrounds, and enabling sound.
Another good app for the occasion is called Coloring Pages for Kids. This is a general coloring app that's particularly suited to toddlers and pre-schoolers. It includes St Patricks Day coloring images, and as a bonus the app can also be used for other special days such as Easter, Halloween, Thanksgiving, and Christmas. There are over 600 coloring pictures on offer so there's bound to be something to suit most desires. Features include a zoom gesture for coloring the smaller pieces, or double tapping or a long press on a color to change it.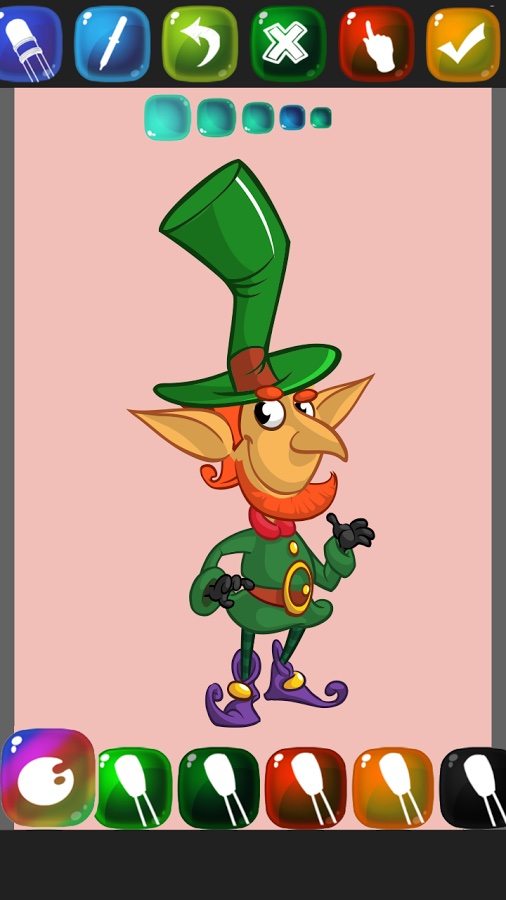 The next option is St Patrick's Live Wallpapers that offers a variety of St Patrick's themes for your device. Take your time to browse the images such as a pot of gold at the end of the rainbow, a glittering horseshoe, the traditional Irish leprechaun, shamrocks, and more. To preview an image simply tap once and hold to set it as your background. You can also change the speed of the movements as well as the numbers. Further customizations are available with this app.
Our final choice is Holiday Coloring Book. You can use this app to entertain your kids about all of the festivals and special days throughout the year, and of course that includes St Patrick's Day. There are many pictures to choose from or kids can create their own images. Simply tap the paint bucket to color, draw lines using the brush, or take out any mistakes by clicking the eraser. These St Patrick's Day coloring pictures can then be set as a wallpaper or stored in a gallery to show to friends. Once St Patrick's Day is over it's not long until Easter so the app can soon be used again.
Remember all of these Android apps are free so why not take a look. Will you be using any of these apps for St Patricks Day coloring or live wallpapers? Maybe you have your own recommendations for good free St Patrick's Day apps?