Savortex Partners with Intel to Launch adDryer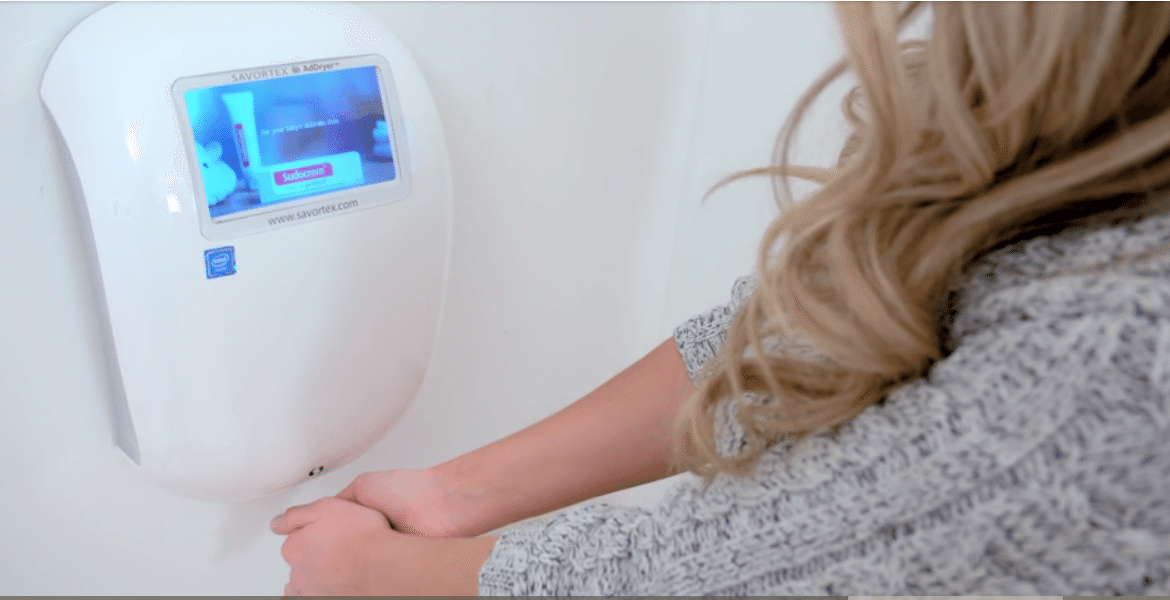 Savortex launched adDryer, the most sustainable and worlds first advertising hand dryer in partnership with Intel.
Syed Ahmed an entrereneur best known for his appearance on The Apprentice, and the founder and MD of the multi-award winning hand drying technology manufacturer, SAVORTEX, has collaborated with Intel to launch the adDryer. adDryer is the World's first ever revenue share producing hand dryer for enterprises. It can transform waste into revenue with the revolutionary Intel® inside adDryerTM by Savortex.
adDryer an IoT-enabled smart dryer
The adDryer is an IoT-enabled smart dryer that comes with a digital screen that can deliver high-definition video messages to users. This can be used for internal marketing or as an additional revenue stream. This solution reduces cost and creates great customer experiences by providing a framework for new and innovative revenue streams.
adDryer is built on Intel technology. It alerts cleaners to washroom needs based on actual footfall allowing companies, in order to transform wasteful and costly commercial washrooms into connected, hygienic, and sustainable revenue-producing assets.
SAVORTEX's range of energy saving and smart EcoCurve hand dryers has been designed to transform the washroom market by delivering unrivalled levels of sustainability, energy savings and operational resource savings from the analysis of meaningful data.
adDryer Features
A sleek sustainable design
A depth of just 134 mm
A patented energy recovery and curved air delivery technology
Syed Ahmed, Managing Director at SAVORTEX said:
"The aim of the EcoCurve range is to disrupt the washroom sector. With a focus on smart connected devices, providing data and insights for operators, it is unique in the market. The adDryer allows companies to transform wasteful and costly commercial washrooms into connected, hygienic, and sustainable revenue-producing assets. This revolutionary product that will help businesses reduce costs and boost revenue."
Rod O'Shea, EMEA IoT Group Director, at Intel UK, said: "
This is Intel's first foray into the hand drying sector. It is a great opportunity to demonstrate how with smart building management and connected devices, enterprises can use data to drive additional revenue streams while reducing operational costs and saving energy. We are proud to work with SAVORTEX, co-developing a product which we can bring to market to drive great customer experiences."
Martin McCourt, former CEO at Dyson, said:
"It is fantastic to see a British company leading the way in technological innovation. SAVORTEX is a forward thinking and dynamic company with a product range that will revolutionise the washroom sector. I was instantly impressed with the adDryer and look forward to seeing what they do next."