Micromax Phone Prices Slashed – Upto 70% OFF on Snapdeal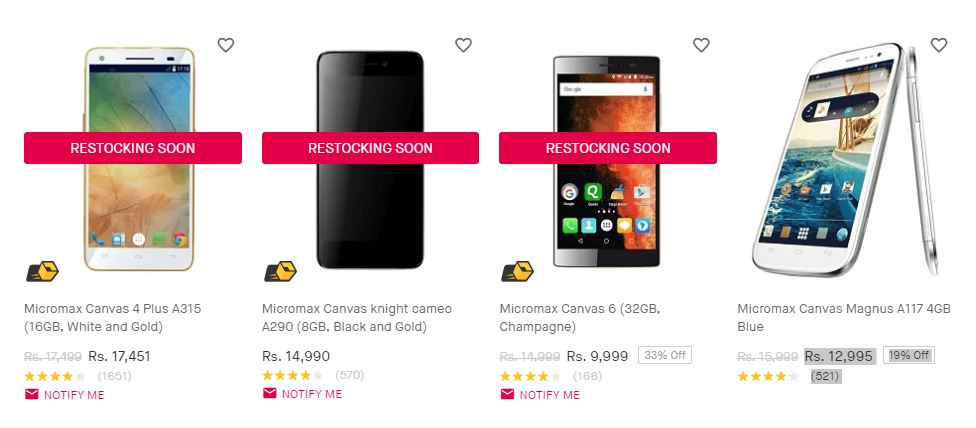 Micromax Phone Prices dropped in India just recently -Thanks to Snapdeal and  Micromax. The largest Indian smartphone manufacturer, Micromax is one of the major players in the budget segment. Aside from feature phones and smartphones, they also manufacturer tablets and two-in-one devices. Micromax recently launched the 4 Plus A315, whose products were made available only on e-commerce shops in India. Through their smartphone releases, the brand stepped into the health and fitness gadgets segment as well.
Micromax Phone Prices Micromax Phone Prices Slashed
Micromax's 4 Plus A315 smartphone priced at Rs 17,451; available exclusively on Snapdeal. This smartphone is aimed for the mass market and expects to sell million handsets before the year ends – the device is 3G-enabled. Snapdeal also has a lot of Micromax phones on sale including the Micromax Canvas knight cameo A290 (Rs. 14,990), Micromax Canvas 6 (Rs. 14,999), Micromax Canvas Magnus A117 4GB Blue (Rs. 12,995), and much more. Click here to see all the Micromax phones that are on sale on Snapdeal.
What is Micromax 4 Plus A315
Designed with an impressive aluminium body, the Micromax Canvas 4 Plus A315 smartphone is ready to dazzle you with its features and outstanding performance. It's equipped with a bright 12.7 cm (5) HD AMOLED Screen that offers you a convenient and comfortable viewing experience. It is powered by a 1.7GHz Tru Octacore processor and runs on Android KitKat 4.4.2 operating System (OS) to facilitate seamless multitasking and smooth operating experience. Other salient features include a 13 MP rear facing camera, a 5 MP front facing camera, 16 GB internal memory, 3G and Wi-Fi connectivity, and a 2000 mAh battery.
Micromax 4 Plus A315 Quick Review
Micromax 4 Plus A315 is a good android device and I had a thrill in using it for the first time. Kudos to Micromax, for doing a good job in making this masterpiece. The touchscreen is great, it feels and look premium, performance wise – it's very fast and no lags. Overall, I am quite happy with this device and I think it is a great smartphone. If you're looking for a bang for the buck smartphong, then this should fit your bill. You may consider buying this rather than buying a high end smartphone from Samsung or Apple which offers similar features for high prices. If you are concerned about the brand or status, then no one can stop you from opting for Apple, Samsung, or other brands.
You can buy the Micromax 4 Plus A315 smartphone at lowest price along with 1 year Micromax India warranty only at Snapdeal.com for only Rs 17,451.