Philips 868 Camera Mobile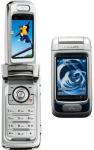 COMING SOON for 2006 – This mobile is being released sometime in 2006 and let's hope early 2006. This mobile has a very cool feature and that it flips open and then once its open the top part can rotate round so the screens either facing the front or back, yes I know we can take pictures of ourselfs. It has an internal aerial, the size is 92x45x25mm and weighs 110grams, and the colour of the Philips 868 will come only in silver but who knows if it's popular then they will come out with more. The only thing lacking on this mobile phone is that it has not got Bluetooth. The talk time is round about 5 hours with standby time being 150 hours.
The TFT screen is 96×64 pixels and 65k colours.
Features —
– Digital Zoom
– Video Recording
– Camera Light
– 64 Polyphonic Ringtones
– Java, Audio Player, Tri Band
– GPRS, SMS, EMS and MMS
– Email, WAP and XHTML Browser
– Infrared