Snom 320 VoIP Phone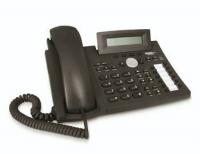 If you're an office worker then your going to need one of the most important things for your office, and that is a phone and VoIP phones all the rage at the moment, the Snom 320 is one such telephone that is the right choice for a business as it can handle 3 way conference calls and has a speakerphone so you can tap away at your pc while you are chatting away.
Its LCD display is a 2×24 and is semi graphic; there are 12 keys that can be programmed for your desired function and come with leds.
You are able to store 100 numbers and there is also a 100 number call memory as well.
For those nuisance numbers you are able to custom your call blocking, there is also an auto answer feature.
Its firmware is fully upgradeable, and has support for broad codec, NAT, STUN and also Enum.
Also supported is SRTp which is a security standard from the IETF which will protect you from people eavesdropping on your conversation.