LG F2250 Mobile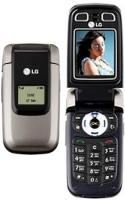 COMING SOON for 2006 — The clam shell design is very nice looking plus this is an easy to use phone and very practical for the everyday use and the best thing this is going to be value for money they say. This mobile has 5 hours of talk time which is fantastic plus it has 12 days of standby time. The display screen is of TFT 128 x 160 pixels with 65.000 colours, so you have a nice clear screen. Orange seem to be the ones that are going to market this phone but you know the industry things always change but I will keep you informed. The LG F2250 has an internal aerial and the size of this mobile phone is 87x46x23mm and weighs only 90 grams. Colours will come in silver and black.
LG F2250 Features/Specs —
– Auto Dial, Vibration and Hands free Loud Speaker
– Ring tones are only Polyphonic
– Supports Java Games
– To-Do, Organizer, Calculator, Alarm, Calendar and a Currency Converter
– GSM Network
– PTT Data
– SMS and MMS Messaging
– Email and WAP Internet
– Disadvantages — No Bluetooth or Infrared.