Gigabyte G-Smart i120 PDA Smart Phone
Gigabyte have just announced a new phone by the name of g-smart i120, now this is a smartphone that will be good for everyday use with features such as an easy to use alphanumeric keypad, Windows Mobile 5.0 and 64MB RAM & 256MB ROM plus Bluetooth 1.2, SD expansion slot and even Wi-Fi.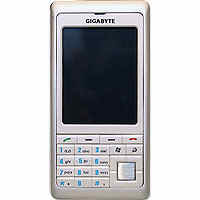 Integrated TV is on the Gigabyte G-Smart i120 Smart Phone and offers tri-band 900/1800/1900 MHz and GSM GPRS class 10. The QVGA display screen is of 2.4 inches with 262K colours which is a very good size plus has an FM tuner.
This PDA smart phone has EDGE which is good for browser, the built in keypad is pretty good and as well as Bluetooth there is Infrared a 2 megapixel camera to take your pictures on the move. All in all a pretty good mobile phone.
Do you like the design of this Gigabyte PDA phone? Leave comments below.