Virgin Lobster 700 TV Mobile Phone
This is the all new tellyphone; no we have not gone mad that is what this is a Tellyphone. This mobile phone called the Virgin Lobster 700 TV does promise to give you a new revolution in technology in the way you watch Television and with this UK's first mobile phone mobile TV allows you to watch live TV plus allows you to listen to digital radio as well from all the top broadcasters.
This is all possible thanks to the technology of DAB-IP which means Digital Audio Broadcasting Internet Protocol which means also that you do not have to rely on 3G networks. You get to watch TV on the colour 2.2 inch display and this mobile has 128MB of internal memory and expansion slot plus Bluetooth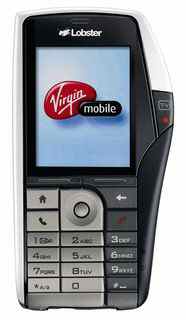 So you have the TV and you also have a digital radio plus you will also get with the Virgin Lobster 700 TV Windows Mobile 5.0 software with email, internet browsing plus instant messaging and music player just to get you going. This phone also comes with a 1.3 megapixel camera plus recording capabilities as well, we know the camera side of things is only 1.3 megapixel which is not the best in the world but come on who cares you have a TV in your pocket.
The Virgin Lobster 700 TV mobile phone is expected in September 2006 and you can pre order yours here now with exclusive offers at Carphone Warehouse.