The New N800 Internet Tablet
The all new Nokia N800 yes a new phone tablet from the N Series and what is all the fuss about some like it some do not so the best option is to tell you what I think then you can judge for yourself because at the end of the day I stick to the Phones Review saying "The Users Choice". Testing this was a gem and I am not going to bore you with all the boring details of what I liked and what I did not because everybody has different opinions but what I can tell you is a little about the N800 Web Pad Tablet. The N800 does not work like conventional phones.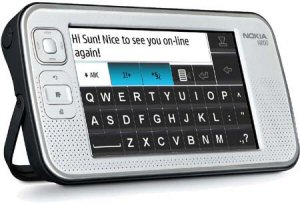 The Styling is very neat and tiny and considering what it can do is not big at all at only 144x75x13mm and it weighs 206 grams which is not heavy at all either, the feel is all right not to big not to small it works very well in my comfort zone anyway. The N800 will run at a nice 800×480 resolution with a 5.3 aspect display ratio.
The best feature I personally like is mainly the RSS feed reader and the Google Talk which needs setting up but once done not that bad really, it has a media player for listening to music and or watching movies and another cool feature which is already on some phones is the virtual keyboard that is so easy to use and if you have trouble then I guess you need to get another phone (lol), there are 2 types of keyboard setting which is one if you are using the stylus pen and this gives you a smaller keyboard and one if you want to use your fingers which brings up a bigger virtual keyboard now that's cool I think.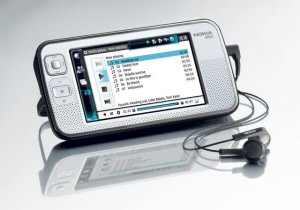 The top and I mean the nuts is the built in camera and to control the camera on the side is a button press it and hell yeah the control comes out you can twist this round to control the camera just use your fingers to control the camera, for sound let me put it in an easy way to explain and the way to say this is that you have a laptop right or you know someone that has and you want to hear the sound oops the sound is boring and not good at all well the speakers give you much better sound on the N800.
You can use the stand to stand the Nokia N800 Internet Tablet upright so you can view it nice and clearly.
Here is a video off YouTube which will show you the N800 in all its glory oh bear with the video the man could have least put some music in the background. Check it out below.
N800 Features & Specifications —
– TI Omap 2420 CPU with 320 MHz Speed
– Linux Operating System
– Cool Stand
– Stylus Pen
– Stereo Speakers
– Built in Camera
– Widescreen Display with high resolution
– Opera 8
– Email
– Flash 7
– Instant messaging, you can do internet calling with built in web cam
– Full keyboard
– UPnP architecture
– Expandable Memory
– Internet Tablet OS 2007 edition
– Internet Radio
– RSS Feed Reader
– Bluetooth
– Wi-Fi
– PDF viewer, Backup/restore, File manager, Calculator, Application installer, Sketch, Image viewer and notes
Price: £269.00
Source via — Nokia
Do you like the stunning Nokia N800 or not?
If you love Nokia phones then check out these deals –
PAY AS YOU GO
CONTRACT (monthly)