Mobile with DVD Quality on the Pico DLP Projector Phone
A mobile with DVD quality on the Pico DLP Projector phone, this is a serious piece of kit that will be awed all over the world. Yes this is not only a mobile phone but is also a projector with DVD Quality, the way it works is it houses a DLP chip and a power supply which in size measures 1.5 inches in length.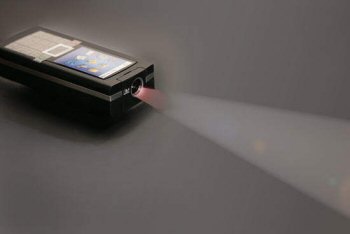 The mobile phone will send a beam of light in stunning quality onto a wall or screen in where you can watch your movie clips you have either made or downloaded. This one is gold dust at the moment because I have no clue on if it will be out in the shops or the pricing margin. If you know more about this mobile phone stroke projector then please do come forward and let us know. We will keep you posted on this baby.
Is the Pico DLP Projector phone the mobile of the future?