Splash and Dust Proof New Siemens GIGASET E455 SIM Digital Home Phone
The new Siemens Gigaset E455 SIM digital cordless phone is here now in the UK, it has just been launched and apparently one of the best robust home phones on the market. The reason for the robustness is because it is splash and dust proof which means no need to worry about stains and spillages. It has rubber pads for shock protection so go on drop it, it does not matter.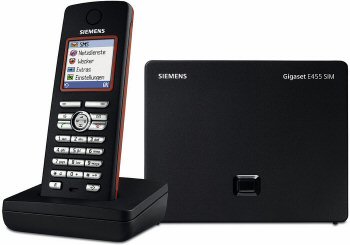 Siemens GIGASET E455 SIM Digital Specifications —
– Call recording
– Programmable Recall – Flash time
– up to 35 min recording time Answering machine
– PABX Compatible
– Anniversary reminder
– Clock with alarm & snooze
– 150 Entry phone book
– Repeater compatible
– LCD illumination "off"
– SMS with up to 640 characters
– Belt Clip
– IP54 Shock, dust and damp resistant
– Date and time of messages – voice
– Automatic dialing
– Talk time 12 hours
– Standby time 160 Hours
The Siemens GIGASET E455 home cordless phone will set you back a mere £74.99 oh and they are available without the integrated answering machine for around £54.99.
Source — Product Page