LG Cherry Chocolate or also known as VX-8500, 8500, KD-800
The LG Cherry Chocolateâ"¢ or also known as the LG VX-8500, LG 8500 and KD-800 is one of those pretty phones, the cherry colour does stand out somewhat, but hey if that's what you like then you go ahead. To tell you the truth the more we look at it the more it grows on us, the spec side of this phone are not that bad either.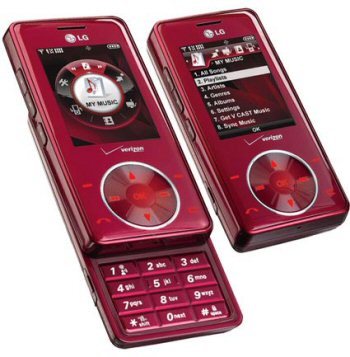 Starting off with a 5-Way Navigation plus 1.3 megapixels Digital Camera with 2x Digital Zoom & Flash, Bluetooth technology and much more, read full specs below.
LG Cherry Chocolate Specifications —
– CDMA 850/1900 MHz
– Backlit Illumination & Illuminated Keypad
– Voicemail Key
– Any Key Answer
– 500 Entry Phone Book Capacity
– Auto Answer
– Photo Caller ID
– Voice Activated Dialing
– Polyphonic, MP3 Ringtones
– Downloadable Ringtones
– Distinctive Ring
– Vibration Alert
– TFT 240 x 320 pixels QVGA Display (262k)
– Bluetooth Compatible Headset
– External Volume Control
– Color effects, night mode, self-portrait mirror, self-timer, night mode & white balance
– MPEG4 Streaming
– Audio Playback
– MP3, WMA Player
– Video Playback
– Web Browsing
– SMS, EMS, MMS, Chat (AIM, MSN, and Yahoo!)
– Predictive Text Entry T9
– High Speed Data Connectivity – 1xRTT, EVDO
– Brew Applications
– Personal Information Management (PIM)
– Email
– Currency Converter, Calendar, To-Do-List, Stop Watch, Address Book, Memo Pad, Alarm & Calculator
– Voice Commands
– PC Synchronization
– Keypad Lock
– Bluetooth
– Games
– MicroSD Expansion Slot
– 384 hours Standby Time
– 210 minutes Talk Time
– 100 grams
– 9.7 x 4.8 x 1.8 cm