Samsung Mobile Triple Effect: SGH-E950, E840 & J600 Phones
This is the Samsung Mobile Triple Effect: Samsung Electronics have just unleashed 3 brand new spanking mobile phones, can you contain yourselves? The newly unveiled Samsung mobile phones are luxurious, well designed and most of all have stunning innovative features. Before we go too much into the 3 new phones we must say these are targeted at Southeast Asian consumers (to start of with at least, we will get them you will see).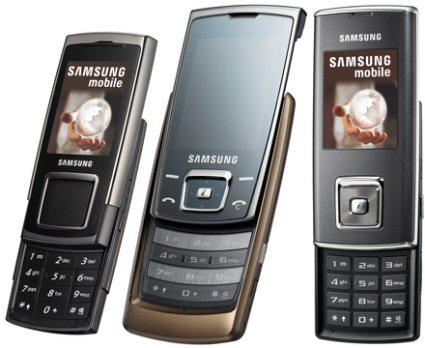 Right now to the 3 Samsung phones —
Samsung SGH-E950 aka Samsung E950 —
– The Samsung E950 is an elegant looking phone with luxury in mind, the handset has a luxurious surface material and features massive improvements on design and functions. The Samsung SGH-E950 as an enhanced touch-panel input method, the icons will change with the function displayed in the main screen to maximize ease of use, other features include a 3.2-megapixel camera, more efficient email and internet access and powerful multimedia features such as enhanced newly-developed graphical user interface and better music features.

Samsung SGH-E840 aka Samsung E840 —
– They say this is the slimmest slider mobile phone in the world at only 10.6mm, we love this one because it a the thin design and a great mirror display. This phone is all about style and fashion and it sells itself well in these departments, the metal finish really enhances the phones looks along with the tempered glass. The features are pretty cool too such as scrollable screen, displays Web pages on a vertical level plus features the latest NF v3.4 internet browser (an embedded Web micro browser specifically made for handset use)
Samsung SGH-J600 aka Samsung J600 —
– Designed with the glazed surface design and chrome metal trim makes this a little beauty, but until we have it in our hands we will never know will we. Features include 1.3 Megapixel (not 100% sure on this but it is our guess), 4x digital zoom camera, and multi-format music player with MP3, AAC, AAC+ and e-AAC + formats.
The E950 will be available in Southeast Asia from July, while E840 and J600 have been launched this month in select Southeast Asian markets.
Source — Engadget Mobile