LG 1500 is a phone honestly it is: Review and Specifications
The LG 1500 was announced in 2004 so you're wondering why the heck we are chatting about it, relax. Phones Review readers have been searching for this phone so it our duty to comply. Sorry if this is boring for you all but it has to be done. The LG 1500 is a phone honest and only just at that, it is a nice phone but nothing compared to today's standards.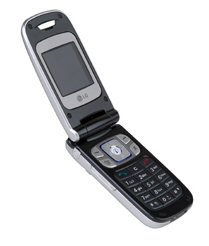 This is a phone for the beginner or someone that does not need all the fuss of ringtones, music, Bluetooth etc. Read the specs below.
LG 1500 Main Specifications —
– GSM 900 / GSM 1800
– Polyphonic (16 channels) Only
– 20 missed calls, 20 dialed & 20 received (Call Records)
– Four way navigation keys
– Grayscale graphic display – 128 x 64 pixels (2 lines)
– Vibration
– 7 contact groups & 255 entries (Phonebook)
– EMS & SMS Messaging
– 110 short messages, 11 message templates & 20 calendar events (Memory)
– WAP 1.2.1 Browser
– Organizer, Calculator, Scheduler, Voice memo, World clock, Voice dial and T9
– Crazy Race, Mobile Hawk & Stone Axe (Games)
– Up to 200 Hours Standby
– Up to 3 Hours Talk Time
– 105 x 44 x 21 mm
– 80 Gram
Now for the LG 1500 Killer Downside — NO GPRS, HSCSD, EDGE, WLAN, Camera, 3G, Bluetooth, Infrared port, USB or Card slot.
Do you own this phone or have had one? If so please let us know what you think of it.