BT Diverse 6350 Corded/Cordless Telephone, now with a fantastic saving.
Here we have the Diverse 6350, a sleek and stylish home phone with corded or cordless options and an answer machine with up to 20 minutes recording time, and remote access. This smart looking telephone also has a reasonably sized blue backlit display on the handset and base, and a SIM card reader. The 6350 is fully Gap compatible capable of registering up to six handsets. Lockable keypad, clock and alarm with music while on hold, and wall mountable feature make the Diverse 6350 telephone ideal for home and office use.
Original price – £119.75 now on special offer at a fantastic £79.75, a great saving of £40.00.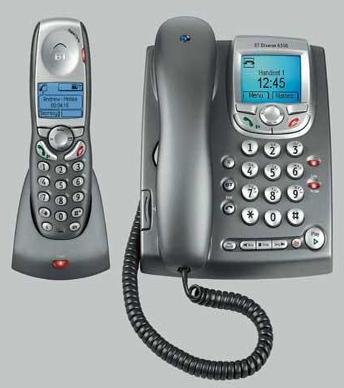 ·         Titanium.
·         100 name and number memory.
·         Up to 13 hours talk time.
·         Up to 170 hours standby.
·         10 last number redial.
·         30 call log.
·         Caller ID.
·         10 polyphonic ring tones.
·         5 monophonic ring tones.
·         Ringer volume control on base and handset. Fully Gap compatible – register up to 6 handsets.
·         50m indoor range, 300m outdoor range (in ideal conditions).
·         Headset port on cordless handset with headset included.
If you like this phone for information and buy option please click here
Subscribe to the Phones Review Newsletter (free) for email updates and news, just enter your email CLICK HERE