PED3 Apple iPhone stand that rotates baby
I bet you don't enjoy a juddering picture when watching video on the move; it is a problem when using a portable media player. So how do you solve this problem? Well you need to make the device remain still, simple really. So to enable you to watch those videos or movies without a the shake we have the PED3, an Apple iPhone stand, and although there are many media player stands available on the market, the PED3 stands out.
The PED3 is a new iPhone stand that actually rotates to an amazing 360 degrees while holding your iPhone steady at top and bottom as well as the sides making sure it remains secure. You will see from out images below just how simple the PED3 really is to use and how well it grips your Apple iPhone.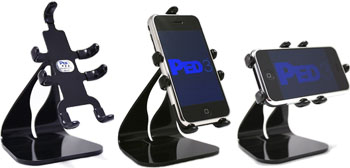 Source — coolest-gadgets
Subscribe to the Phones Review Newsletter (free) for email updates and news, just enter your email CLICK HERE