Apple iPhone Tarriffs and Pricing and buy now option
The Apple iPhone, a combination of mobile phone, widescreen iPod with touch-screen, and internet communications with email, web browsing, searching, and maps all confined in a superb small device. The iPhone revolutionises mobiles by tapping the name or number in your address book, favourites list or log, and can synchronise all contacts from a PC, Mac, or Internet service.The widescreen iPod allows you to use touch controls to access audio books, music, video and TV shows which you will watch on its 3.5 inch display. Internet is available via Safari, the most advanced browser available to portable devices which will automatically synchronise bookmarks from your PC or Mac, with Safari having built-in Google and Yahoo oneSearch. Also with the Apple iPhone it can multi-task, so you can make a call while emailing an image, or surfing the web over a Wi-Fi connection.
The Carphone Warehouse has some great tariffs and prices on offer, the iPhone 8GB for £129 which includes free next day delivery, O2 network which gives you £35-£45-£55 tariffs; while on all three tariffs you receive unlimited data, visual voicemail, 7,500 Wi-Fi hotspots, and special roaming rates with ITS.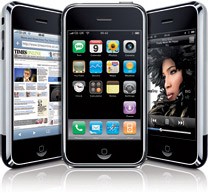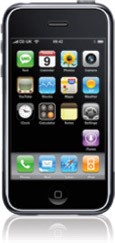 So don't hang about grab yourself a great iPhone deal by clicking here
Subscribe to the Phones Review Newsletter (free) for email updates and news, just enter your email CLICK HERE