Apple iPhone fits nicely in the iStuff PhoneDock HiFi System
Have you got an Apple iPhone? Well if the answer is yes then you will love the iStuff PhoneDock HiFi System, it is like a partnership in heaven without all the speed dating. Someone has designed and crafted a HiFi boom box which is specifically for the Apple iPhone and now that the iPhone has been released in the UK which was last Friday this is a definite accessory to have to house the iPhone.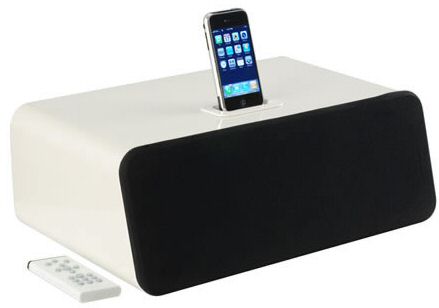 iStuff the people behind the PhoneDock HiFi System is the world's first iPhone compatible speaker dock, this accessory is compatible with dock-connecting iPods as well and it features a 4 inch woofer and a pair of mid-range drivers plus a couple of tweeters.
It is powered by a 40-watt amplifier and boasts a 3.5-millimeter auxiliary jack, S-Video output, USB connector and IR remote. The PhoneDock has been claimed too be the most superior to those other guys by not introducing static-noise when the iPhone is connected.
If you want one of these devices it will set you back £129 ($272)
Source — Tech Digest