Sagem my220x gold for only £14.99: one of the cheapest in UK
Just announced is what we call one of the cheapest phones in the UK, the mobile phone is called the Sagem my220x gold and for only £12.49 you have to agree with us. At this price you would expect the phone to be some old bulky thing looking years old, but hell no.
The Sagem my220x in gold is compact and pretty sleek handset with a golden touch, the gold trim and gold disc menu button really makes this phone stand out. The Sagem my220x mobile phone weighs 65 grams and is 10mm thick.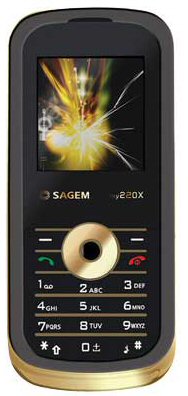 The features include 65k colour LCD screen, SMS with T9, hands-free capability with speaker phone, vibration alert and dual-band plus 240 hours standby time and 180 minutes talk-time.
You can buy one of these Sagem my220x phones from Argos for yes just £14.99 with 12 Months guarantee on Virgin pay-as-you-go. BUY NOW