BT Aqua Twin Home Phone complete with Answer Machine
Brighten up your room with this stunning twin home phone set from BT, the BT Aqua, a double phone set with answer machine in white with an aqua blue trim, and colour screen; a set that will stand out in any room. The Bt Aqua also has some great features such as 30 call log, dynamically allocated with last number redial, Secrecy button, 30 last number redial, 250 name and number memory, Wall mountable (location free base), Large display, and so much more.
Argos are currently offering the BT Aqua twin for the great price of £89.99, it can be usually delivered in 2 working days, or reserved for store collection subject to stock status.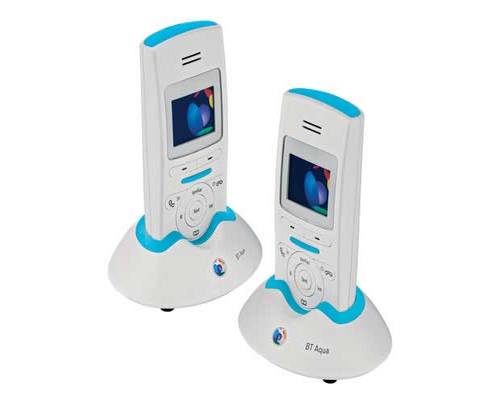 ·         10 polyphonic ringtones.
·         Remote access.
·         Call timer.
·         Clock.
·         Alarm.
·         Incoming ring personalisation.
·         Call waiting.
·         4096 colour LCD display.
·         Keypad lock.
·         Caller ID.
·         3 wallpapers.
·         Message playback from handset.
·         Call transfer.
·         SIM card reader.
·         SIM card writer.
·         Up to 100 hours standby time.
·         Up to 10 hours talktime.
·         11 minute recording time.
·         Message counter.
·         Up to 50 metre range indoors.
·         Up to 300 metre range outdoors (in ideal conditions).
·         Requires 2 x AAA rechargeable batteries (supplied).
To gain the BT Aqua or to see more information about this twin set please click here
Subscribe to the Phones Review Newsletter (free) for email updates and news, just enter your email CLICK HERE