Binatone V4201 Twin Home Phone Set
These are two great looking home phones from Binatone, the V4201, a twin set of phone in silver and black with green display and white numerals. The V4201 twin has some great features such as, Cordless DECT with speaker phone, 40 name and number memory, Up to 9 hours talk-time, Up to 100 hours standby time,10 call log,10 last number redial, and may more.
Argos are currently selling the Binatone V4201 Twin for the great value price of £27.86, and can be usually delivered in 2 working days, or reserved for store collection subject to stock status.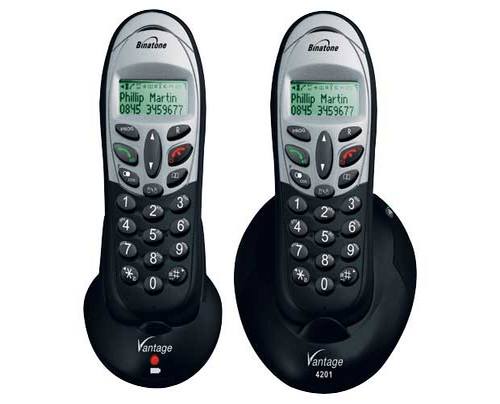 ·         Caller ID.
·         Call timer.
·         8 monophonic ringtones.
·         Ringer volume control on  handset.
·         Handsfree/speakerphone.
·         3 line black/white non-illuminated display.
·         Secrecy button.
·         Clock.
·         Keypad lock.
·         Requires 1.2V 300mAh (AAA size) rechargeable batteries (supplied).
·         Multiple handsets.
For more information or if you wish to buy please click here
Subscribe to the Phones Review Newsletter (free) for email updates and news, just enter your email CLICK HERE