Nokia N81 and FREE Nokia in car FM transmitter at Vodaphone
The sleek and stylish Nokia N81mobile phone was designed as a gaming handset and has dedicated gaming keys and high quality N-Gage capability. The Nokia N81 has a 2.4 inch screen along with some great features like, 3G, HSCSD, EDGE, and Wi-Fi, a 2 megapixel camera, MP3 player, FM radio, Bluetooth, and much more.
Vodaphone have the Nokia N81 on offer with a FREE Nokia in cat FM transmitter, and is available on a tariff of £35 per month with £17.50 for the first 3 months, 500 anytime minutes and 500 inclusive texts, and a FREE Nokia N81 handset.
Other Vodaphone tariff plans available see link below.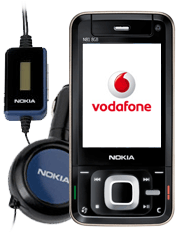 ·         GPRS
·         Quad-band
·         Alarm
·         Voice Activated Dialling
·         Hands Free
·         Memory Card
·         Mobile TV
·         Video Messaging
·         Games
·         Polyphonic Ringtones
To view further information or to purchase the Nokia N81 please visit Vodaphone.co.uk
Subscribe to the Phones Review Newsletter (free) for email updates and news, just enter your email CLICK HERE