Sony Ericsson W880i mobile phone with free MPS-60 speakers
Here we have the ultra-slim Sony Ericsson W880i Walkman phone constructed in stainless steel and at a slim 9.4mm think won't weigh down your pocket or hamper your purse. The stylish W880i has a music player for playing all your favourite tunes, and a 2 megapixel camera to keep the snap happy amused.Sony Ericsson has taken a lot of time to cramp some great features into the K880i, featured like mobile TV, games, polyphonic ringtones, video messaging and changeable cover to name but a few.
You can get the Sony Ericsson at Vodafone, where you will find  a great off such as this – £50 — 1200 minutes and 500 texts per month, £25 for the first 3 months, and a FREE Sony Ericsson W880 handset complete with Free  MPS music player, an  a FREE W880i handset and FREE MPS-60 speakers.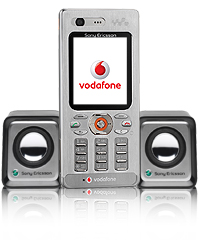 ·         Memory Slot
·         Bluetooth
·         Car Kit Compatible
·         Tri-band
·         GPRS
·         Organiser
·         Voice Activated Dialling
To view further information on the Sony Ericsson W880i or to purchase please go to Vodafone.
Subscribe to the Phones Review Newsletter (free) for email updates and news, just enter your email CLICK HERE