The Nokia 8800 Sirocco Gold mobile phone at Carphone Warehouse
The Carphone Warehouse currently has the Nokia 8800 Sirocco gold mobile phone taking luxury to another level as this gorgeous mobile phone is covered in 18-carat gold plating bringing you just a taste of the rich life.
The Nokia 8800 Sirocco gold has an almost organic outline and fits comfortably in your hand.The Sirocco is a beautiful slide phone which has a 2 megapixel camera for the photo favoured, and a high quality display to view those photos on and it's protected by sapphire coated scratch resistant glass, and has Bluetooth connectivity.
The Nokia 8800 Sirocco Gold is at the Carphone Warehouse who have in on Orange with a great tariff of Dolphin – £35 — 18 months, 500 minutes and unlimited texts per month, Magic number, and Orange Wednesdays.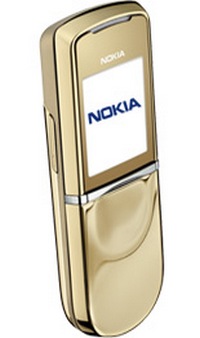 Works in USA (Tri-band)
Bluetooth
Faster data with GPRS
WAP
Camera phone
Music player
FM Radio
Colour screen
Picture messaging
Polyphonic ringtones
Vibrating alert
Voice dialling
Speakerphone
To view more on the Nokia 8800 Sirocco Gold or to purchase please visit the Carphone Warehouse.
Subscribe to the Phones Review Newsletter (free) for email updates and news, just enter your email CLICK HERE