Sprint announces new rugged Motorola i570 iDEN mobile phone
If you are one who is looking to replace your iDEN mobile phone with a device a little more durable, Sprint possibly have the solution as they announce a new iDEN phone, the Motorola i570.
The Motorola i570 is a clamshell design handset which is certified to MIL-SPEC 810F for shock, vibration and dust so it will continue to work when u need it most, also in addition the i570 has 2 screens, one internal and one external, built in speakerphone, integrated GPS and Java support.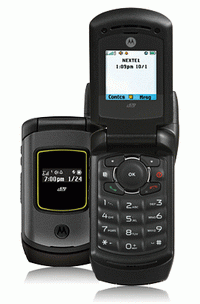 So if you want the Motorola i750 phone it's going to set you back $99.00 with mail-in rebate and two year agreement.
Source — phonescoop
Subscribe to the Phones Review Newsletter (free) for email updates and news, just enter your email CLICK HERE