Motorola Z8 mobile phone with two free gifts at O2
This is the stylish latest edition in Motorola's MOTORIZR series, the Motorola Z8, the first multimedia mobile phone to bring high definition video and high fidelity radio. With this superb mobile phone you will find in the box a FREE 512MB memory card along with a full length feature film of the Bourne Identity for you to enjoy at your leisure.
You will also find a set of S9 stereo Bluetooth headphones which will allow you to connect with your mobile device wirelessly. The Motorola Z8 has a 2.2 inch QVGA 16 million colour pixel display enabling you to view videos at 30 frames per second, probably making it the best mobile video viewing phone you've ever encountered. The Z8 measures 109 x 50 x 15mm and weighs 112 grams.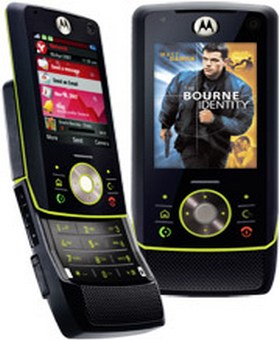 O2 have some superb tariffs on the Motorola Z8 one of which is Online – £35 — 18 months Texter, 600 minutes and 1000 texts per month plus unlimited texts or O2 calls, and a FREE Motorola Z8 handset.
To view further information on the Motorola Z8 or to purchase please visit O2
Subscribe to the Phones Review Newsletter (free) for email updates and news, just enter your email CLICK HERE