Bodyglove Drive Pack: a great in-car accessory
Here we have the Drive Pack from Bodyglove, a superb mobile phone accessory pack for the car which includes; the Bodyglove Flex headset, in-car charger, swivel clip belt, and in-car dash mounted holder making the Bodyglove Drive Pack the ideal solution for in-car hands-free driving.
Don't take the risk of being distracted when answering your mobile phone; the Bodyglove Flex headset is easy to use and very practical while remaining comfortable. It is an over the ear style headset with adjustable ear-hook, and has a noise cancelling microphone that gives you clear audio calls.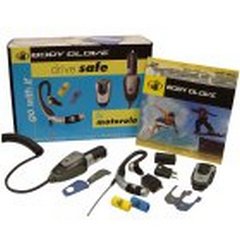 For further information or to purchase the Bodyglove Drive Pack please visit The Link