Contract and Prepay mobile monthly top ten
Mobile Choice keep a weekly list of the top ten contracted and prepay mobile UK sales, blow you will see the lists. Contracts are not that much different from last time, probably thanks basically to Nokia toand Sony Ericsson handsets from  both their mid-range mobiles.The N95-8GB, and N95 are also doing quite well.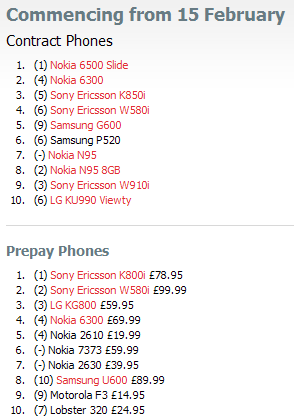 As for prepay mobiles, well yes Nokia and Ericsson  still hold the top position, and while Nokia owns 40% of the market, Sony Ericsson are fast closing in within the UK.
Source — mobilechoiceuk