Twixtxr, the Twitter for your Apple iPhone
Fon Labs is working to construct the world's biggest Wi-Fi community, but they do like dabbling in new technologies now and again state Fon's company founder Martin Varsavsky in his blog. The thing Fon is interested in now is an iPhone friendly service called Twitxr; Twitxr allow the user to post an image via your mobile phone and also add a brief description, and it will add geotagging to your image via triangulation.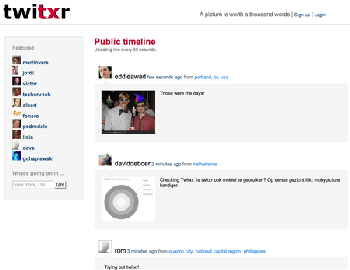 Your image however won't be posted to their new site as Twitxr uses the Twitter API to notify your friends as soon as your image is posted, what's more is you can have the ability to post to Facebook as well, and there is also an offer of Twitter having their own gateway for application developing.
Source — mashable