The spying game video: Portable SIM card reader reads deleted messages!
Up front we are not, repeat not advocating spying on anyone by use of a SIM card reader; however, should you wish to check up on your missus or hubby there is a way of doing it!
BrickHouse Security are selling a tiny gadget that takes snooping a step further; a SIM card reader known as Cell Phone Sim Card Spy will let the user pull back all deleted info from a SIM card, including any deleted text messages and last numbers dialled. Shocking I know!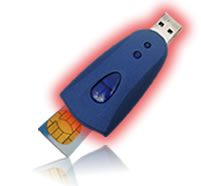 The Cell Phone Sim Card Spy has features such as parental control (probably so if you've snooped on your kids SIM's they can't find out) backup of all data (so you can keep any evidence you may find) data transfer from one SIM to another (gotta keep em guessing which SIM it's on) and other enlightening stuff.
So if you fancy becoming a bit of a James Bond you can acquire this snooping gadget for $149.00 from BrickHouse Security. Oh remember, if you've got one…then maybe someone you know has one also, and is snooping on you!
Source — textually