Is the LG Glimmer the real deal? New mobile destined for Alltel
Now come on we need to know if this is the real deal or not, you know fake or real. What we kind of see is the LG Shine with a mix of Viewty and there you have it the all new LG Glimmer.
The LG Glimmer is a full touch screen phone that we found via Howard Forums, apparently and if true the LG Glimmer is destined for Alltel which some of you may hate but there you go.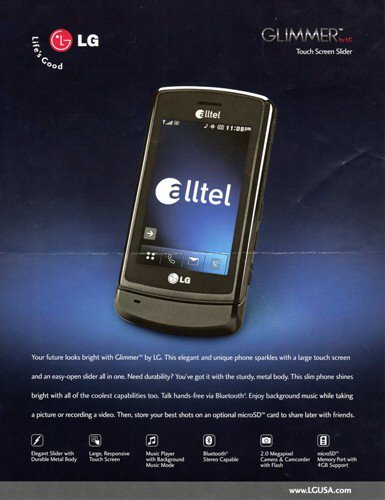 The LG Glimmer going by the screenshots features a 2.8 inch capacitive touch display, microSD slot, 2 megapixel camera with flash, Bluetooth and EV-DO.
Basically we are all going on the screenshots on the LG Glimmer, if you visit our source link below who are Howard Forums you will get to see another screenshot. Oh and if you know more about this mobile phone please do let us know. We here at Phones Review will be contacting LG to find out more today.
Source – Howard Forums