iPhone heads for the Alps on April 4
Well, releasing in Switzerland on April 4th…Hmmm, not sure whether this is believable or not, why?  Well let's have a look…
Apple require new markets to reach it's yearyly goal of 10,000,000 handsets sold; the iPhone isn't the cheapest mobile handset around so they can't simply walk into any old market; lastly the people in Switzerland seem to have pots of cash and can afford the iPhone!!
Conclusion…yeah this could be real it could happen.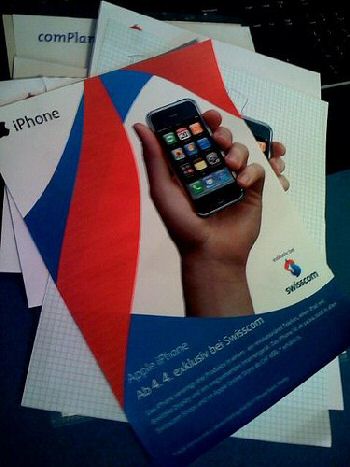 This image is a shot of a Swisscom ad flyer depicting the iPhone and states Apple's iPhone will enter the Swiss market on April 4th. BUT…doesn't that iPhone look a little small? Maybe a printers error, or could it be the work of an iPhone Photoshop master at work? One thing is for sure, we'll find out one way or the other on April 4th.
Source — engadgetmobile