BlackBerry winning enterprise segment against Palm
Not looking too bright for Palm these days; palm essentially began the smartphone revolution, bringing in a new age of corporate handsets for fleets, but they are now seeing their market share slowly being nipped away from enterprise competitor RIM (Research In Motion)and their BlackBerry mobiles.
Undoubtedly palm's most lucrative niche is the corporate customer base; the Palm Treo is somewhat of a status symbol amongst the business suits. This makes the latest study from Change Wave extremely disturbing.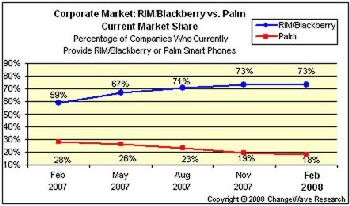 Apparently Change Wave has tallied the number of RIM BlackBerry and Palm handsets, although we add they haven't disclosed their research methods that corporations use in their workforce. This research gives the picture that the corporate sector has been purchasing larger quantities of BlackBerry smartphones while Palm's share continued to dwindle.
In February 07 Palm saw their enterprise smartphones take 28% of those companies surveyed, a year later and Palm has shrunk to 18%; while 59% of companies chose RIM BlackBerry handsets in 07, but 73% choosing the BlackBerry in February 08.
Unfortunately for Palm it seems the Change Wave survey is more or less on target as more and more companies issue their workforces a Blackberry, Palm slips further and further behind. This could mean if Palm don't do something soon to change the situation then Palm could simply fade into history.
Source — palm infocenter