Snappy shoe-themed handset holsters from Crocs
Unique, maybe, stylish, maybe, obviously Crocs believes their famous shoes are loved by all, and everyone loves or has a mobile phone right? So maybe that's the reason Crocs are launching the Crocs "o-dial" (bad bad pun) universally sized mobile handset case, which apparently have been designed  with the  look and feel of the designer Cayman shoes.
Other than the ordinary carry round option the case's inside surface is raised to make sure the mobile handsets screen is protected. It also has an internal accessory sleeve for carrying ID's credits cards or maybe a little cash. Also the Crocs "o-dial" (don't you just hate that) has a patent pending adjustable strap concept consisting of a strong plastic belt clip plus lanyard, all this really makes the "o-dial" (that really grates) more than just a mobile carry case rather a wallet as well.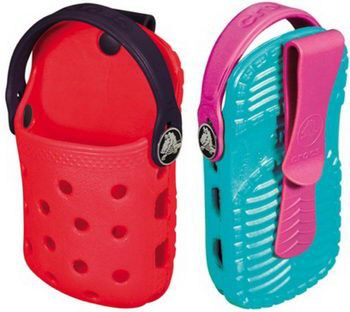 So fancy one? If so the Crocs mobile phone holsters (much better) come in eight colours, silver, grape, celery, turquoise, cotton candy, fuchsia, red, and black, and will set you back £6.95 which is roughly $13.
Source — gizmodo